95th Annual Juried Exhibition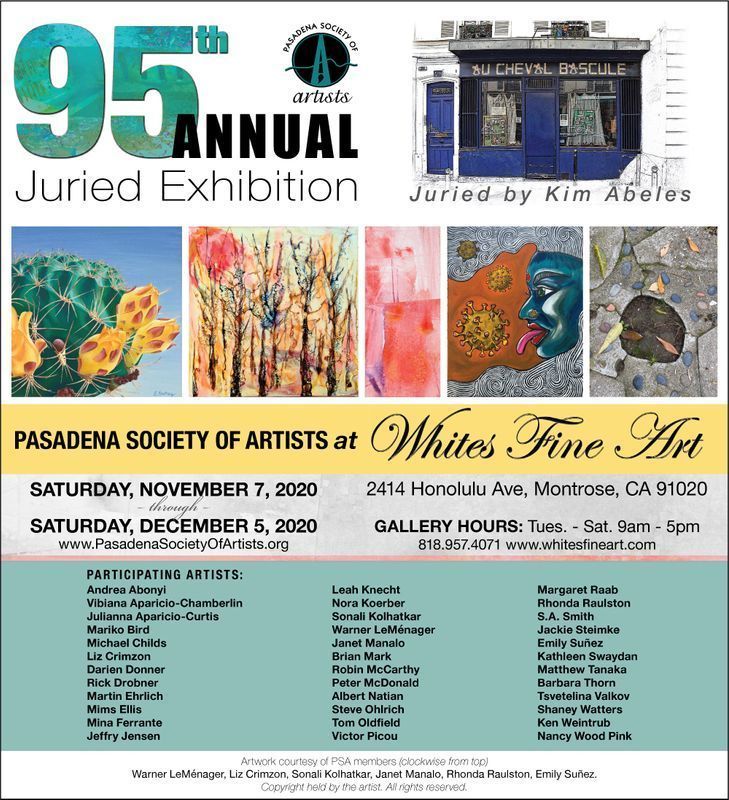 View CATALOGUE online, here.
OCTOBER 23, 2020—FOR IMMEDIATE RELEASE
ANNOUNCING THE 95TH ANNUAL PASADENA SOCIETY OF ARTISTS JURIED EXHIBITION AT WHITES FINE ARTS, MONTROSE, NOV. 7 to DEC. 5
The Pasadena Society of Artists is proud to announce its 95th annual juried exhibition is being held at White's Gallery, 2414 Hololulu Ave. Montrose, and online, Nov. 7 to Dec 5. Gallery hours are Tues. to Sat, 9am to 5pm. Visit online at www.whitesfineart.com
Media represented include oil, acrylic, encaustic, pen & ink, ceramics, mixed media, pastel, watercolor, photography, fused glass, sculpture, digital image, and colored pencil.
Accepted members include Andrea Abonyi, Julianna Aparicio-Curtis, Mariko Bird, Vibiana Aparicio-Chamberlin, Michael Childs, Liz Crimzon, Darien Donner, Rick Drobner, Martin Ehrlich, Mims Ellis, Mina Ferrante, Jeffry Jensen, Leah Knecht, Nora Koerber, Sonali Kolhatkar, Warner LeMénager, Brian Mark, Robin McCarthy, Janet Manalo, Peter McDonald, Albert Natian, Steve Ohlrich, Victor Picou, Rhonda Raulston, Margaret Raab, S.A. Smith, Jackie Steimke, Emily Suñez, Kathleen Swaydan, Matthew Tanaka, Barbara Thorn, Tsvetelina Valkov, Shaney Watters, Ken Weintrub, Nancy Wood Pink.
Juror Kim Abeles says about the show:
"Some of the artists in the exhibit made direct reference to the pandemic, while others made note in their statements about their quarantine. Clearly, each artist reacted to this urgent dilemma through creative production, and some through a new-found lens. Artists are particularly brave when they intuitively express and experiment. The exhibition is comprised of a range of genres, mediums, and approaches. The variety in the artworks is where I was able to see most clearly how our artmaking becomes a portrait of ourselves – a self-portrait, a collective, a community portrait. Each artwork communicates as much through process as manifestation—the journey as well as the destination."
"COVID has inspired artists to continue to create and reflect on the times in which we live," says President Victor Picou.  "We are coping and surviving by supporting each other."
You may order the art by contacting the artists directly, and you may order a print-on-demand catalog from Blurb.com for about $20, plus shipping.  A link will be included on the Exhibition page at www.pasadenasocietyofartists.org
About PSA:  Founded in 1925 by a group led by "the dean of Pasadena painters," Benjamin Brown, the Pasadena Society of Artists is one of the area's original professional artist groups.  The Society is noted for its vigorous, active membership, wide diversity of artistic statement, and high professional standards.  Membership is by juried submission.
For more information:
Contact Director of Communications, Debbi Swanson Patrick, 310-995-5389. Individual images available. Please call or email news@pasadenasocietyofartists.org
FaceBook:  https://www.facebook.com/PasadenaSocietyofArtists/
Instagram:  https://www.instagram.com/pasadenasocietyofartists
Twitter:  https://twitter.com/PasadenaArtists
PSA online:  https://www.pasadenasocietyofartists.org/news_events/calendar.html