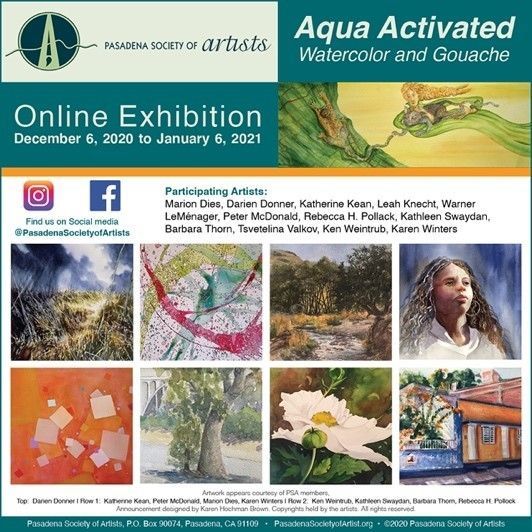 DECEMBER 4, 2020—FOR IMMEDIATE RELEASE
ANNOUNCING THE PASADENA SOCIETY OF ARTISTS
FINAL EXHIBITION OF 2020
"AQUA ACTIVATED,"
A celebration of watercolor and gouache
Online Dec. 6 to Jan. 6, 2021
The Pasadena Society of Artists is proud to announce its last show of 2020, "Aqua Activated," a collection of 21 watercolor and gouache works being held online only December 6 to January 6, 2021 at ISSUU.com.  Visit online at https://bit.ly/3gbDJvL
Media represented include watercolor, watercolor and ink, watercolor monoprint, and guache. Many artworks are available for purchase directly from the artist. A printed catalog is available via print-on-demand from Blurb.com, toward the end of December. Price TBD.
Participating artsts are Marion Dies, Darien Donner, Katherine Kean, Leah Knecht, Warner LeMénager Peter McDonald, Rebecca H. Pollack, Kathleen Swaydan, Barbara Thorn, Tsvetelina Valkov, Ken Weintrub, and Karen Winters. Exhibition Chair Lawrence D. Rodgers.
"Our first virtual watercolor/gouache exhibition, 'Aqua Activated,' includes the works of approximately 20% of our artist membership," says President Vic Picou. "A number of these artists have mastered other media. In many exhibitions, artists take pride in being selected by fine jurors; however, in this exhibition, the artists have selected their own entries."
"My only experience with watercolor was in college, studying with the late George Tsutakawa of Seattle," adds Picou. "He was a fine painter, yet well recognized for his bronze fountains. Mr. Tsutakawa suggested that we be patient and mindful as we approach a watercolor. He encouraged us to feel the water, and to touch the fine bristles of the brush and the paper. He was both deliberate and spontaneous, yet he stayed in the moment." Picou shares what other artists have said about watercolor:
Andrew Wyeth: "The only virtue to it, is to put down an idea about what you feel at the moment."
Frank LaLumia (California watercolorist): "Being in sync with watercolor requires a confident hand and a willingness to be on the razor's edge. If you crash and burn, so what? Surely, playing it safe won't take you where you want to be."
David Hockney: "With watercolor, you can't cover up the marks. There's the story of the construction of the picture, and then the picture might tell another story as well."
Henri Matisse, known for his expressions in watercolor and gouache, said: "Creativity takes courage."
The artists represented in this exhibition reflect the values of the Pasadena Society of Artists: "the standard will be high and only work of real merit will be accepted" (PSA founding members, 1925). "These artists are courageous and push the limits of creativity," adds Picou. "I am pleased to be a member of this prestigious organization of fine artists, kind and gentle people.
Thank you for visiting our exhibition."
SPECIAL NOTE:
In addition, The 95th Annual PSA Juried Exhibition is running through December 24 at White's Gallery, 2414 Honolulu Ave., Montrose and online through December 31 -click here 95th Exhibition Catalog.
About PSA:  Founded in 1925 by a group led by "the dean of Pasadena painters," Benjamin Brown, the Pasadena Society of Artists is one of the area's original professional artist groups.  The Society is noted for its vigorous, active membership, wide diversity of artistic statement, and high professional standards.  Membership is by juried submission.
For more information:
Contact Director of Communications, Debbi Swanson Patrick, 310-995-5389. Individual images available. Please call or email news@pasadenasocietyofartists.org
FaceBook:  https://www.facebook.com/PasadenaSocietyofArtists/
Instagram:  https://www.instagram.com/pasadenasocietyofartists
Twitter:  https://twitter.com/PasadenaArtists
PSA online:  https://www.pasadenasocietyofartists.org/news_events/calendar.html
# # #