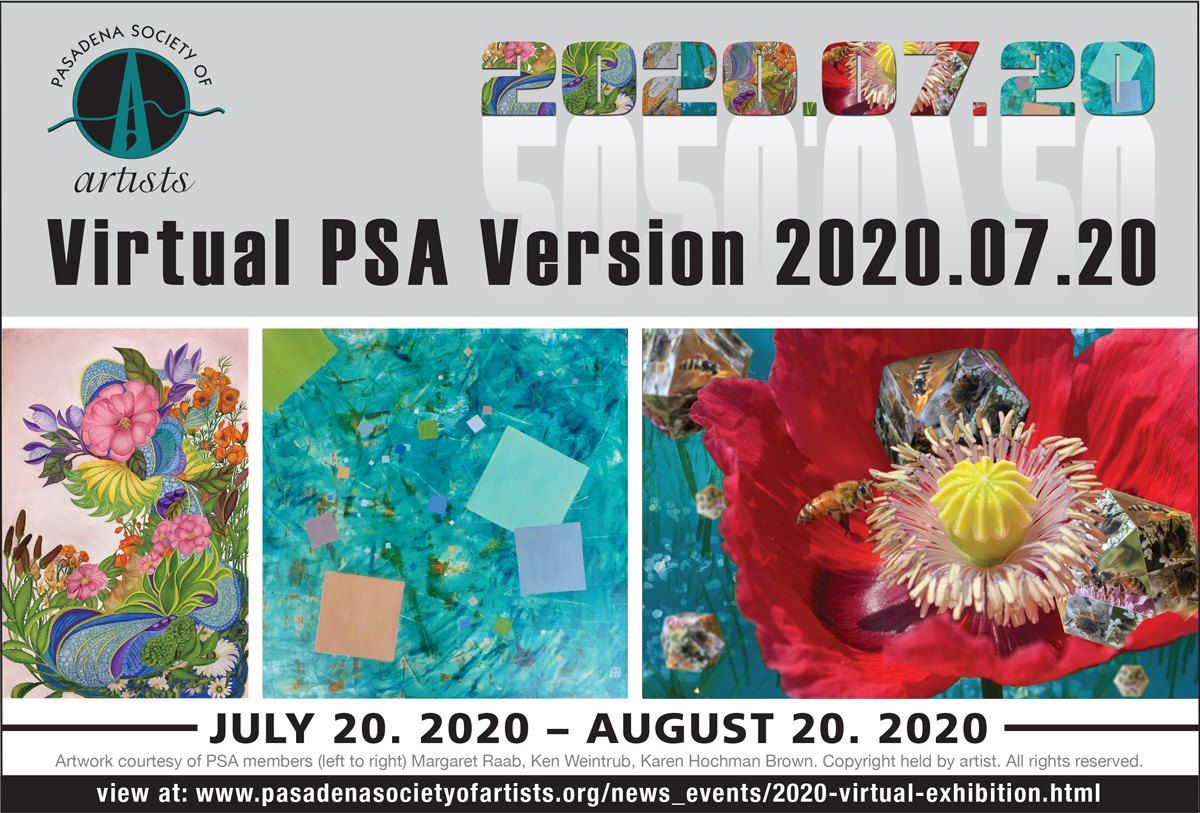 JULY 20, 2020—FOR IMMEDIATE RELEASE
PASADENA SOCIETY OF ARTISTS LAUNCHES PREMIERE ONLINE EXHIBIT
"VIRTUAL PSA VERSION 2020.7.20"
LAUNCHING JULY 20, 2020.
The Pasadena Society of Artists is breaking with a 95-year tradition of in-person exhibitions in the midst of COVID-19.  We are holding our first ONLINE exhibit July 20 to August 20, 2020, called
VIRTUAL PSA VERSION 2020.7.20.
Visit the exhibition here:  www.pasadenasocietyofartists.org/news_events/2020-virtual-exhibition.html.
You may order the art by contacting the artists directly, and you may order a print-on-demand catalog from Blurb.com for about $13, plus shipping.  A link will be included on the Exhibition page.
The representational, abstract, and impressionistic styles used by the artists depict many takes on life in the time of COVID-19. Media include watercolor, oil, acrylic, collagraph etching, aquatint, monoprint, encaustic, photography, mixed media, ink, ceramics, stone, and wood. 
"The Pasadena Society of Artists is proud to present our first online catalog and exhibition of fine art.  The participating 43 artists represent the best art of Pasadena and of nearby communities," says President Vic Picou.  
"During this unprecedented economic and health crisis, artists continue to make art that reflects hope, love and appreciation of artistic skills," adds Picou.  "This is a quieter time, allowing artists to hear more clearly a deeper meaning of art and its merit.  PSA, having survived WWII, the Great Depression and other challenging times, will survive this event as well by continuing to create art, by supporting each other and never giving up."
Preparing this exhibition has been a new and exciting challenge for this nearly century-old group that has a history of noted members.
"We've embraced technology and launched into the 21st century using an online viewing software with ISSUU," says Exhibition Chair and Vice President, Exhibitions Lawrence Rodgers.  "Viewers are also able to print a catalog on demand," he adds. "We're integrating our website and social media into a vibrant sharing and promotion of artists, one of our core responsibilities as an organization."
Participating Artists:
Karen Hochman Brown, Peter McDonald, Fred Chuang, Maryellen Eltgroth, Rebecca Harvey Pollack, Joanna Kos, Mims Ellis, Paul Martinez, Debbi Swanson Patrick, Kathleen Swaydan, Vibiana Aparicio-Chamberlin, Sonali Kolhatkar, E. M. Tietjen, Martin Ehrlich, Ken Weintrub, Jeffry Jensen, Rhonda Raulston, Leah Knecht, Robert Michael Sullivan, Tom Oldfield, Marvin Jackson, Shaney Watters, Emily Suñez, S. A. Smith, Mina Ferrante, Karen Winters, Nancy Wood Pink, Victor Picou, TsvetelinaValkov, Albert Natian, Steve Ohlrich, Andrea Abonyi, Margaret Raab, Liz Crimzon, Brian Mark, Mariko Bird, Peggy Ebright, Michael Childs, Nora Koerber, Janet Manalo, Matthew Tanaka, Suzanne Urquiza,  and Danny Mattijetz.
About PSA:  Founded in 1925 by a group led by "the Dean of Pasadena painters," Benjamin Brown, the Pasadena Society of Artists is one of the area's original professional artist groups.  The Society is noted for its vigorous, active membership, wide diversity of artistic statement, and high professional standards.  Membership is by juried submission.
For more information:
Contact Director of Communications, Debbi Swanson Patrick, 310-995-5389.  Individual images available.  Please call or email news@pasadenasocietyofartists.org
FaceBook:  https://www.facebook.com/PasadenaSocietyofArtists/
Instagram:  https://www.instagram.com/pasadenasocietyofartists
Twitter:  https://twitter.com/PasadenaArtists
PSA online:  https://www.pasadenasocietyofartists.org/news_events/calendar.html
# # #