FOTO & CLAY Juried Exhibition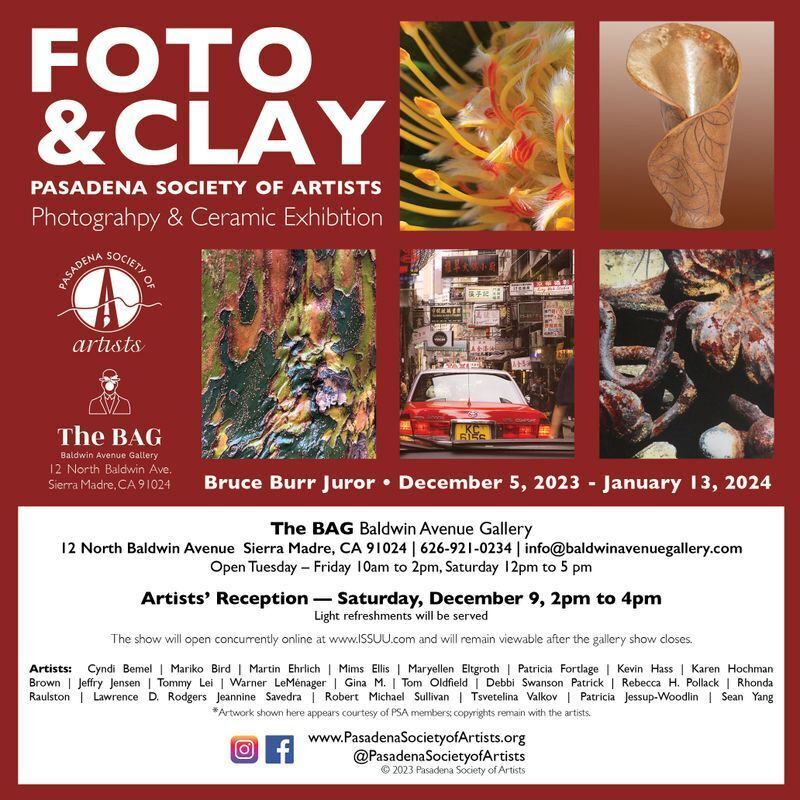 On December 5, the Foto & Clay exhibition opens at BAG, 12 North Baldwin Avenue Sierra Madre. 626-921-0234 info@baldwinavenuegallery.com
The artist's reception is Saturday, December 9, 2pm to 4pm. Light refreshments will be served. Exhibition closes Saturday, January 13, 2024, at 5pm.
Gallery Hours are: Tuesday - Friday 10am to 2pm, Saturday 12 noon to 5pm. (Holiday hours to be determined.) 
Participating are 22 photographers and ceramicists including: Cyndi Bemel, Mariko Bird, Martin Ehrlich, Mims Ellis, Maryellen Eltgroth, Patricia Fortlage, Kevin Hass, Karen Hochman Brown, Jeffry Jensen, Tommy Lei, Warner LeMénager, Gina M., Tom Oldfield, Debbi Swanson Patrick, Rebecca H. Pollack, Rhonda Raulston, Lawrence D. Rodgers, Jeannine Savedra, Robert Michael Sullivan, Tsvetelina Valkov, Patricia Jessup-Woodlin, and Sean Yang.
Exhibition Chair Tom Oldfield says of the show, "This is a great opportunity to see the work of excellent photographers and ceramicists from the PSA. This is a juried exhibition so all the artists had to submit their art to be judged and accepted into the show. You will be impressed by the quality of their work."
And Juror Bruce Burr says "One of the most rewarding aspects of serving as a juror was witnessing the multitude of perspectives and narratives conveyed through each work of art. Every artist brought glimpses into their interpretations of the world. It was a joy to see the diversity of styles and techniques showcasing the breadth and depth of their medium."
PSA is a non-profit organization founded in 1925, whose mission is to present the works of its many talented and creative artists to the community of Pasadena and surrounding areas.  Combining an active tradition of community participation and partnering with local community arts organizations, as well as philanthropic, humanitarian, and educational institutions, PSA endeavors to enhance public awareness of art and the enriching qualities it brings to our lives. PSA will celebrate its 100th anniversary in 2025.
For more information about PSA please visit www.PasadenaSocietyofArtists.org
Contact:
Debbi Swanson Patrick
Director of Communications 310-995-5389
news@PasadenaSocietyofArtists.org
Tom Oldfield
Exhibition Chair
toldfield@earthlink.net