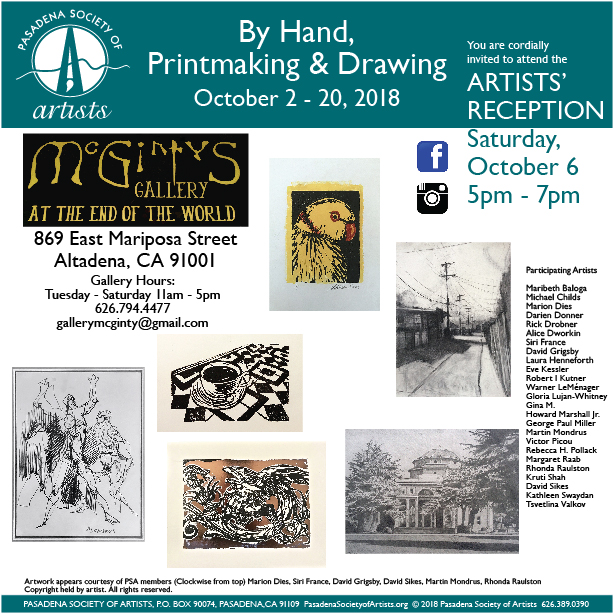 The Pasadena Society of Artists and McGinty's Gallery at the End of the World present a brand new exhibition, "By Hand, Printmaking & Drawing". The exhibition opens Tuesday, October 2 and continues through Saturday, October 20, 2018 at 869 East Mariposa Street in Altadena, California. Meet and visit with the participating artists at the Opening Reception Saturday October 6 from 5 pm to 7 pm. Refreshments and hors d'oeuvres will be served.
Twenty-four members of PSA will be exhibiting ninety-eight artworks created especially for this exhibition. Printmaking techniques presented include relief prints, intaglio, etchings, aquatints, monoprints, woodcuts, lithographs, screen prints. linocuts and dry point. Drawing techniques include graphite, charcoal, conte crayon, pen and ink, brush, colored pencil, pastel on pastel board, prismacolor on canson and combinations of several techniques.
Artworks travel the gamut from realistic to abstract, monotone to multiple colors and from petite to large scale works. Exhibited alongside the artwork are statements by the artist explaining their artwork. All artwork is available for purchase.
Exhibiting artists are Maribeth Baloga, Michael Childs, Marion Dies, Darien Donner, Rick Drobner, Alice Dworkin, Siri France, David Grigsby, Robert I Kutner, Eve Kessler, Warner LeMénagar, Gloria Lujan Whitney, Gina M., Howard Marshall Jr., George Paul Miller, Martin Mondrus, Victor Picou, Rebecca H Pollack, Margaret Raab, Rhonda Raulston, Kruti Shah, David Sikes, Kathleen Swaydan and Tsvetelina Valkov.
To see more of their artwork please visit www.PasadenaSocietyofArtists.org and click on the heading "Artists". There you will find artwork portfolios, artist statements and biographies.
Founded in 1925, the Pasadena Society of Artists is one of the area's original professional artist groups. The Society is noted for its vigorous, active membership, wide diversity of artistic statement, and high professional standards. Membership is by juried submission.
PSA is a non-profit organization whose mission is to present the works of its many talented and creative artists to the community of Pasadena and surrounding areas. Combining an active tradition of community participation and partnering with local community arts organizations, as well as philanthropic, humanitarian and educational institutions, PSA endeavors to enhance public awareness of art and the enriching qualities it brings to our lives. For more information about PSA please visit www.PasadenaSocietyofArtists.org
For more information about the exhibition contact:
Rebecca H Pollack: Exhibition Chair Pasadena Society of Artists
Email: Exhibitions@PasadenaSocietyofArtists.org
Ben McGinty: Owner McGinty's Gallery at the End of the World
Email: gallerymcginty@gmail.com
Lawrence D Rodgers Vice President, Exhibitions Pasadena Society of Artists
Email: Exhibitions@PasadenaSocietyofArtists.org