93rd Annual Juried Exhibition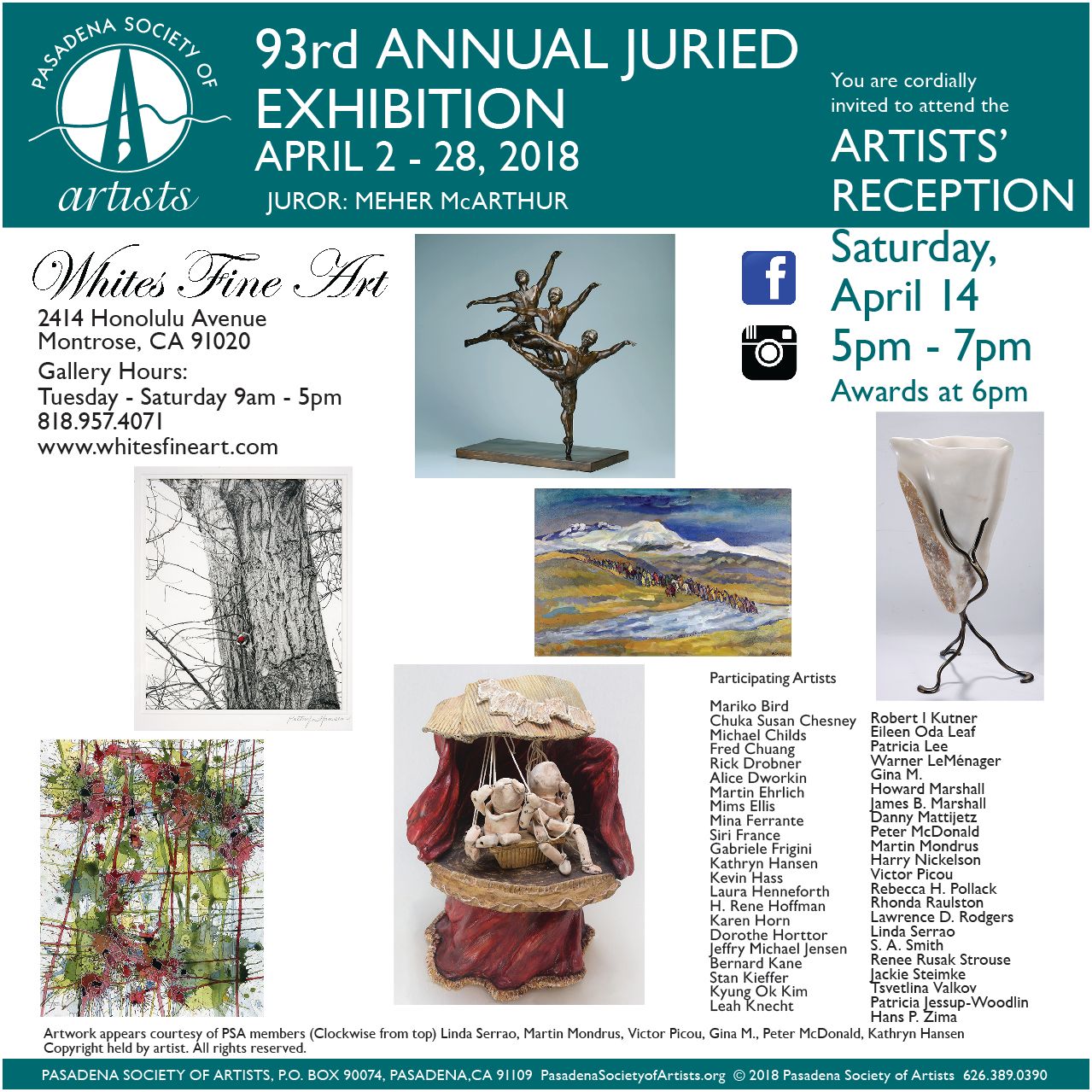 Pasadena Society of Artists 93rd Annual Juried Exhibition at White's Fine Art Gallery
The Pasadena Society of Artists invites you to attend the Opening Reception for the 93rd Annual Juried Exhibition.  The celebration starts at 5 pm on Saturday April 14 at White's Fine Art Gallery located at 2414 Honolulu Avenue in Montrose.  See a spectacular exhibition of 77 new and original artworks created by forty-four PSA members as selected by juror Meher McArthur.  Meet the artist and discuss their work while enjoying light refreshments and hors d' oeuvres.
Artwork is presented in oil, acrylic, watercolor, etchings, traditional and digital photography, stone sculptures, clay sculptures, bronze sculptures, ceramics, encaustic, pen & ink, graphite pencil, mixed media, etching, aquatint, monoprint, photo-montage, fused glass, cut paper, pastel and collage.
The 93rd Annual Juried Exhibition is open from Monday, April 2 through Saturday, April 28, 2018.  The Artist's Reception is Saturday, April 14 from 5 pm to 7 pm, awards presentation at 6 pm. 
White's Fine Art Gallery hours are Tuesday – Saturday 9 am to 5 pm.  Additional information is available at www.whitesfineart.com or calling 818-957-4071.
Founded in 1925, the Pasadena Society of Artists is one of the area's original professional artist groups.  The Society is noted for its vigorous, active membership, wide diversity of artistic statement, and high professional standards. Membership is by juried submission.
PSA is a non-profit organization whose mission is to present the works of its many talented and creative artists to the community of Pasadena and surrounding areas.  Combining an active tradition of community participation and partnering with local community arts organizations, as well as philanthropic, humanitarian and educational institutions, PSA endeavors to enhance public awareness of art and the enriching qualities it brings to our lives.
For more information about PSA please visit www.PasadenaSocietyofArtists.org