2017 Dia de los Muertos at the Pasadena Central Library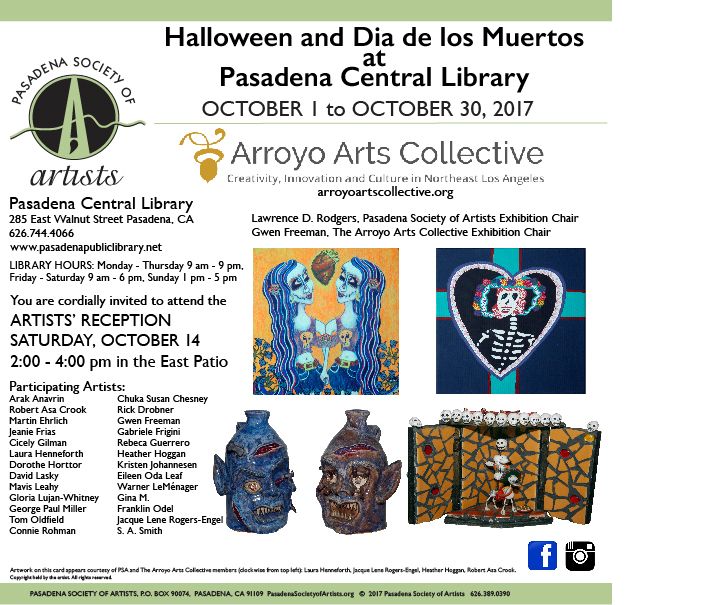 October 1, 2017
For Immediate Release:
Halloween and Dia de los Muertos Exhibition at the Pasadena Central Library
October 1 – 30, 2017  Artists' Reception Saturday, October 14, 2 pm – 4 pm in the East Patio
The Pasadena Society of Artists and The Arroyo Arts Collective present "Halloween and Dia de los Muertos" at the Pasadena Central Library.  Opening Sunday October 1 and continuing until Monday October 30, 2017 see 56 examples of new and exciting artwork created by 26 artists from the Arroyo Arts Collective and the Pasadena Society of Artists.
Artwork is displayed in the North Entrance, the Pasadena Centennial Room, the Humanities Wing and the Reference & Business Wing Display Cases.  The artwork explores the various themes surrounding Halloween and Dia de los Muertos. 
Come meet the artists and discuss their artwork Saturday, October 14 is the Artists' Reception from 2 pm to 4 pm in the library's East Patio.  Refreshments and hors d'oeuvres will be served.
View the exhibition during the Pasadena Central Library hours: Monday – Thursday 9 am – 9 pm, Friday – Saturday 9 am – 6 pm, Sunday 1 pm – 5 pm.
Founded in 1925, the Pasadena Society of Artists is one of the area's original professional artist groups.  The Society is noted for its vigorous, active membership, wide diversity of artistic statement, and high professional standards. Membership is by juried submission.
PSA is a non-profit organization whose mission is to present the works of its many talented and creative artists to the community of Pasadena and surrounding areas.  Combining an active tradition of community participation and partnering with local community arts organizations, as well as philanthropic, humanitarian and educational institutions, PSA endeavors to enhance public awareness of art and the enriching qualities it brings to our lives.
For more information about PSA please visit www.PasadenaSocietyofArtists.org
The Arroyo Arts Collective is a grassroots, community-based organization of artists, poets, musicians, performers, craftspersons and supporters of the creative community in Northeast Los Angeles. The Collective has, since its founding 1989, provided venues for showcasing the visual arts, presented live performances of drama, music, poetry, puppetry, and free form parades in the neighborhoods of Highland Park, Mt. Washington, Glassell Park, Eagle Rock, El Sereno and Cypress Park.