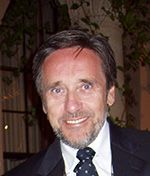 Biographical Information:
Born and raised in Vienna, Austria, I have been practicing photography since my early teens, beginning with a Leica given to me by my father, and proceeding through film technology and darkroom work all the way to today's high-resolution software-supported digital and HDR technology.
Artist Statement:
My professional career in computer science research and teaching took me across the world, resulting in countless opportunities for meeting people and recording fascinating landscapes, architectures, and urban scenes all over the globe. The strongest focus of my photographic work so far has been nature, landscape, and travel photography.
I have been living in Southern California for the past two decades, enjoying the climate, scenery, and people in this region of the world. Since retiring in 2011 from a full-time position as a Principal Scientist at the Jet Propulsion Laboratory (JPL) I have been pursuing a professional status in photography, connecting with many people and organizations sharing my interests. I use Nikon D800E and Nikon D850 cameras with a range of lenses from wide angle through telephoto and perform post processing with Photoshop and Photomatics. In addition to my membership in the Pasadena Society of Artists I am also a member of the Photographic Society of America and the Pasadena Photochromers Club.