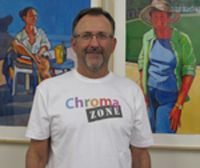 Biographical Information:
Mark began pursuing watercolor painting in 2000. He has had watercolors accepted in the San Diego Watercolor Society International Annual Exhibition and the Watercolor West Annual Exhibition. He is a Member of Mid-Valley Arts League and serves as their President from 2008-2010. He is a juried member of the Pasadena Society of Artists, Valley Watercolor Society and Watercolor West.
In 2003, Mark launched Fine Artists Factory (FAF), a 5000 sq.ft. drawing & painting studio, to support fellow fine artists, and to individually pursue his own fine art career. During the fours years FAF was in Pasadena, Mark curated over 60 gallery exhibitions and hosted more than 20 workshops with such artists as; Scott Burdick, Dan Goozeé, Craig Srebnik, Charles Reid, Eric Wiegardt, Ted Nuttall, Frank Webb, Robert Burridge and Betsy Dillard Stroud.
Mark develop his drawing skills through weekly figure sessions hosted by FAF. Recently he has been working in acrylic creating colorful figurative paintings that have a distinctive stylistic approach.
A native Californian, Mark spent his grade school years in Napa and Thousand Oaks. He completed high school and Junior College in Michigan before returning to California. Mark has a BFA in Graphics/Packaging from Art Center College of Design '77. He has directed Mark Wood Design Office for over 25 years, creating branding and marketing communication materials. For the past 30 years he has resided in the San Gabriel Valley with his wife and two daughters.
Artist Statement:
Dramatic bold use of color is what excites me. I'm a colorist. The creative use of color makes a painting interesting every time you look at it. Depicting realism and local color is a secondary concern, which makes my work more stylized rather than representational. I'm interested in creating upbeat joyful feelings with my art.
Whether the subject is figurative, landscape, or still life, color is what establishes interest. Acrylic is the medium that allows me to accomplish my goals as a colorist. I work on canvas paper, watercolor paper and stretched canvas, starting with a warmly tinted gesso foundation.
When creating figurative work, I enjoy working from a live model, typically in 3 hour sessions. This helps me work rapidly keeping the paintings more spontaneous and fresh looking. If possible the painting is completed during the first session. Occasionally final touches may need to be added later.
Influences in my art are Matisse and Fauvism, the Scottish Colourists, the Bay Area Figurative Artists, and the Society of Six: California Colorists.
Group Exhibitions:
2020 Art Matters 2029, San Marino League, Huntington Library
2020 Mid-Valley Arts League, 67th Annual Exhibition, Honor Court
2019 Chaffey Community Art Museum, Members Show, 2nd Runner Up
2019 Pasadena Society of Artists, 94th Annual Juried Exhibition
2019 Mid-Valley Arts League, 66th Annual Exhibition, Honor Court
2018 Art Matters 2018, San Marino League, Huntington Library
2018 Chaffey Community Art Museum, Members Show
2018 Mid-Valley Arts League, 65th Annual Exhibition, Honor Court
2018 10th Annual Art About Agriculture, Santa Paula Art Museum
2018 Simply Red Art Exhibit, da Gallery, Pomona
2017 2017 CA Open Exhibition, tag Gallery, Hollywood
2017 Pasadena Society of Artists, 92th Annual Juried Exhibition
2016 Spotlight Gallery, Chaffey Museum of Art,
Featured Artist, California, Places & Faces
2016 Pasadena Society of Artists, Spring Exhibition
2015 Pasadena Society of Artists, 90th Annual Juried Exhibition
2015 CREATE!, Chaffey Museum of Art, Artist Member Exhibition
2015 One Man Show, Pomona Arts Colony, California, Places & Faces
2014 Pasadena Society of Artists, 89th Annual Juried Exhibition
2014 Segil Fine Art, Home, Sweet Home Art Show (Monrovia)
2014 Mid-Valley Arts League, 61st Annual Exhibition, 2nd Honor Court
2013 Segil Fine Art, Little Gems of Art Show (Monrovia)
2013 Pasadena Society of Artists, 88th Annual Juried Exhibition
2012 Millard Sheets Center for the Arts 2012 Exhibition,
"Art & Fair: 90 Year Celebration
2012 San Gabriel Fine Arts Association, Annual Fall Show
2012 Art Matters Encore!, San Marino League, The Huntington Library
2011 Mid-Valley Arts League, 58th Annual Exhibition
2011 Pasadena Society of Artists, 86th Annual Exhibition
2011 VWS Annual Exhibition, Gallery 800
2010 Segil Fine Art, 8th Annual Small Works Show (Monrovia)
2010 Remembering Henry Fukuhara, Emeritus College Gallery,
Invited to include tribute painting, Bye Henry.
2010 2010 Four Faces of VIVA, Honorable Mention
2010 San Gabriel Fine Arts Association, Annual Spring Show,
1st Popular Vote Award
2010 Pasadena Society of Artists, 85th Annual Juried Exhibition
2010 VIVA Gallery, SCORE VIII, So. CA Open Regional Exhibition
2009 Segil Fine Art, 7th Annual Small Works Show (Monrovia)
2009 Pomona Valley Art Association, 28th Annual Open Exhibition,
1st Acrylic Category
2009 Pasadena Society of Artists, 84th Annual Exhibition
2009 San Gabriel Fine Arts Association, Annual Spring Show
2009 Mid-Valley Arts League, 56th Annual Exhibition, Best of Show
2008 Pasadena Society of Artists, Holiday Exhibition, VIVA Gallery
2008 Southern CA Artists Association (Laguna Beach),
Modern Landscape Exhibition
2008 Festival of Authors, Duarte, CA, Featured Local Artist
2008 VIVA Gallery, "My Way"
2008 Southern CA Artists Association (Laguna Beach),
Go Figure Exhibition, 1st
2007 San Gabriel Fine Arts Association, Annual Fall Show
2007 VIVA Gallery, "A Taste of Color"
2007 DCA/Open Call LA 2007 @ Barnsdall Park
2007 Pasadena Society of Artists, 82nd Annual Juried Exhibition
2007 San Gabriel Fine Arts Association, Annual Spring Show,
1st Seascape
2007 Mid-Valley Arts League, Annual Exhibition
2004 Pasadena Society of Artists Exhibition, Whites Gallery
2003 MountainSide Gallery (Monrovia), Miniature Invitational
2002 Watercolor West XXXIV
2002 San Diego Watercolor Society, 22th International Exhibition
2002 Mid-Valley Arts League, Annual Exhibition
2002 Pasadena Presbyterian 27th Annual Art Show
2001 Mid-Valley Arts League Annual Exhibition, 1st Still Life
2000 Pasadena Presbyterian 26th Annual Art Show