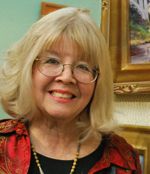 Artist Statement:
As a career documentary-maker, I've always been a storyteller and now it's how I paint as well - primarily in oil but also in watercolor and pastel. I believe every good painting tells a story. The story may be the way a creek winds through a Sierra meadow, shimmering in late afternoon sun. It may be the fragility of wildflowers against the strength of an arroyo bridge. My goal is to discover stories in the landscape and to portray them with strong emotion.
Influences: Those who paint so powerfully I can't look away. Edgar Payne, Guy Rose and J Bond Francisco. George Inness and JS Sargent. If I had to classify my current work, I'd say it draws from both impressionism and realism in equal parts.
My work evolves with endless explorations of California, my native state. Every destination brings new opportunities for plein air studies that will be evaluated in studio and some transformed into major works.
Solo Exhibitions:
2009, Gale's Restaurant, Pasadena, California
Group Exhibitions:
2009, California Art Club "Precious Gifts" show, Women's City Club, Pasadena, CA
2009, Holiday Small Works Show, Segil Fine Art, Monrovia, CA
2009, Beauty of California, Carter Sexton Gallery, No. Hollywood, CA
2009 Bowers Museum Invitational, Bowers Museum, Santa Ana, CA
2009, Group Show, Angeles Crest Art Guild, McGroarty Ctr, Tujunga, CA
2009 San Clemente Art Assn Plein Air Show, San Clemente Art Assn Gallery, San Clemente, CA
2009, PSA Spring Show, VIVA Gallery, Sherman Oaks, CA
2009, PSA Holiday Show, VIVA Gallery, Sherman Oaks, CA
2009 Descanso Gardens Group Show, La Canada, CA
2008, PSA Small Works Show, White's Gallery, Montrose, CA
2008, Day of the Dead Show, Marengo Collection, Pasadena, CA
2008 Bowers Museum Invitational, Bowers Museum, Santa Ana, CA
2008, California Art Club, "Concertos in Color" show, Women's City Club, Pasadena, CA
2008, California Art Club, "Natural Beauty show,"
Women's City Club, Pasadena, CA
2008 National Watercolor Society All Member Show, VIVA Gallery, Sherman Oaks, CA
2008 Descanso Gardens 3 person show, Descanso Gardens, La Canada, CA
2008 Arroyo Seco Plein Air Exhibition, Calif. Art Club, Pasadena Public Library, Pasadena, CA
2008 "Views of Glendale", Artists of the Canyon, Chevy Chase Country Club, Glendale, CA
2007 39th Annual Watercolor West show, Riverside Museum, Riverside, CA
2007 Descanso Gardens Holiday Group Show, Descanso Gardens, La Canada, Ca
2007 Univ. of Redlands Plein Air Competition, Univ. of Redlands, Redlands, CA
2007 "Faith and Hope" - California Art Club/Sacred Heart Academy Group Show, La Canada, CA
2007 Descanso Gardens Group Exhibition (4 person show), Descanso Gardens, La Canada, CA
2007 California Art Club "Rivers and Harbors" show, Women's City Club, Pasadena, CA
2007 California Art Club show - Scenes of Pasadena, Marston's Restaurant, Pasadena
2007 California Art Club show - Pasadena City Hall Centennial Plein Air show, Pasadena City Hall, Pasadena, CA
2007 Brand 36 "Works on Paper" show, VIVA Gallery, Sherman Oaks, CA
2007 National Watercolor Society - All Member Show - VIVA Gallery , Sherman Oaks, CA
2007, Annual Art Dept. Group Show, Citrus College, Azusa, CA
Awards & Honors:
2009, Hon. Mention, Bowers Museum Invitational, Bowers Museum, Santa Ana, CA
2008, First Prize, Pasadena Artwalk, Pasadena, CA
2008, Hon. Mention, PSA, Small Works Show, White's Gallery, Montrose, CA
2008, Third Prize, Bowers Museum Invitational, Bowers Museum, Santa Ana, CA
2008, Third Prize, Spring Show, Mid Valley Art League, Arcadia, CA
2008, Best of Show, Verdugo Hills Art Assn, Montrose, CA
2008 First Prize, "Focus on Oils" show, Verdugo Hills Art Assn, Montrose, CA
2008, First Prize, Verdugo Hills Art Assn Small Works show, Montrose, CA
2007, First Prize, "Americana Show," San Gabriel Fine Art Assn., SGFAA Gallery, San Gabriel, CA
2007, First Prize, Artist of the Month, San Gabriel Fine Art Assn, SGFAA Gallery, San Gabriel, CA
2007, Best of Show, Citrus College Art Dept, Azusa, CA
Affiliations:
Pasadena Society of Artists
California Art Club
Watercolor West
National Watercolor Society
Oil Painters of America
Education:
UCLA, BA, Political Science, Art History, Phi Beta Kappa
UCLA, Masters in Journalism
USC Institute of Advanced Advertising Studies
Continuing education through workshops with professional artists