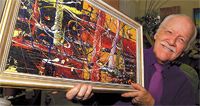 Biographical Information:
Harold Olov Wang was born in Rhinelander, Wisconsin on December 7, 1911 to Scandinavian immigrants, the second of 5 children and the only son. Growing up with 4 sisters during the eve of The Depression stimulated Harold's young mind and imagination. He graduated from high school in the spring of 1930, and decided to broaden his horizons with a 10-month hitch-hiking and train-hopping trip throughout the East, West, and South that spawned dozens of articles of his fascinating adventures, which were published in the Rhinelander Daily News. This launched a passion for writing and painting which is still very much a part of Harold's life today.
In the spring of 1942, Harold was drafted into the U.S. Army when World War II broke out. After serving four years, one of which was in occupied Germany, he was discharged, and on March 21, 1946 married a German-born citizen, Gisela von Koschembahr, whom he met and fell in love with early in his military career when she came to work for him while serving as a WAC in the U.S. Armed Forces. They ultimately went to work for the U.S. Government, started a family, and settled in Virginia, and later Maryland.
During the time that Harold was employed by several government agencies in Washington, DC, he always continued and pursued his passion for writing and art. He became an historian on Abraham Lincoln, and after his retirement in the early 1970's, he enjoyed the freedom of being able to do extensive traveling and research for his various plays, short stories, collection of poems, and novels including "The Pantages - A Saga".
In August, 1989, Harold and Gisela relocated to Palmdale, California. Harold continued to write and paint, but sadly, Gisela passed away on January 1, 1999 at age 84. In June of 2000, mostly to ease his grief and longing, Harold resumed his painting, and found a renewed sense of creativity and vitality. This is reflected in the paintings from his "New Dimensions" collection, which increased the number of his completed works to over 200.
To meet Harold is truly an honor and inspiration: he is charming and charismatic, and has a wonderful sense of humour and wit. Even at his "young" old age, Harold still has his passions, his myriad talents, and his wonderful imagination. He is pleased to be accepted as a member of merit by PSA.
Artist Statement:
Ever since he can remember, Harold has been writing novels, short stories, articles, poems, plays, and taking charcoal to paper, pastels to parchment, oils to canvas. He developed his new artistic technique with his unique eye for color and contrast, and his keen sense of adventure in viewing the world around us. Harold captures amazing images and stories in his paintings, which extend well beyond one's initial viewing of this artist's revolutionary work. Though he has been published and has received many artistic and literary awards throughout his lifetime, the accolades he treasures most are the reactions on the faces of those who have seen his art. The paintings have a brilliant three-dimensional quality, so that each time you revisit them, you discover something you didn't see before. The key is to use your imagination.
In his own words...
"When you view my paintings, I believe you see one thing at first, then looking longer and deeper, you see other things intriguing and unexpected. Each time you experience my paintings, you will always see something different - birds, animals and other exciting and strange creatures you had not initially envisioned will suddenly and magically become visible to you, and you will have a renewed appreciation of the work again and again. Back away, move closer, revisit and feel the remarkable energy that flows from every canvas - your world is curiously in your own imagination.
Although I have been an artist for more than 90 years, working in various media and textures, it is with great pride and pleasure that I present to you my latest collection, 'New Dimensions'."
Harold also has a truly amazing collection of his drawings from the 1930's and his war drawings from 1945 while aboard a U.S. Naval Liberty ship. Please visit his website to see more of this artist's impressive body of work which includes his traditional paintings, and shows a broad spectrum of styles and influences that spans over 9 decades.
Solo Exhibitions:
June 30, 2001 - July 22, 2001
"New Dimensions"
Cedar Centre Art Gallery, Lancaster, CA
Solo Art Show Exhibition with opening reception - 46 paintings
Group Exhibitions:
August 7 - September 10, 2008
William DeBilzan Gallery, Laguna Beach, CA
Featured in 5 Star Artist Exhibition with opening reception
Santa Clarita Artists' Association, Santa Clarita, CA
2002 through 2005
Featured Artist in Annual Art Classic/Gala Fine Art Exhibit and Sale
Lancaster County Art Association, Lancaster, CA
1998 through 2000
Honorable Mention Awards, Featured Artist in Annual Exhibitions and Silent Auction
Awards & Honors:
Various Awards throughout his career.
Affiliations:
Pasadena Society of Artists
Press:
Mr. Wang has been featured in several California newspapers for his artistic achievements and exhibitions including the Laguna Beach Coastline Pilot and the Lancaster Valley Press.