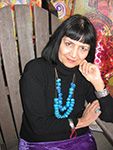 Artist Statement:
Vibiana Aparicio-Chamberlin makes art because, "It is my human necessity. Art is the language I use to speak my truth in a concrete visual way. The five C's guide me in my work, Color, Culture, Calligraphy, vida Cotidiana, and Creatividad. I paint and use mixed media to show the beauty and struggle of people of color.
My subjects are women and family as well as Mexican iconography. Much of my art is an expression of my dream life, which I record and illustrate in small journals on a daily basis. Because I'm a poet-artist I integrate text into my art. My mother, Isabel Luna Aparicio, a Mexican storyteller and my father, Elias Rodriguez Aparicio, a spiritual and intellectual Mexican Indian influence my creative thinking.
I've lived in Pasadena for over forty years and was born and raised in nearby East Los Angeles. I'm a painter, an author and a performance artist. It's natural for me to paint and write about 'la vida cotidiana', the things of everyday life. I've volunteered as an art therapist for recovering stroke patients at The Huntington Memorial Hospital. Currently I volunteer for BLUE MILAGRO as an artist teacher volunteer in the Pasadena Public Schools in the area of art and family histories. My self illustrated memoir, MI AMOR, Stories of Family Love was published in 1915.
Solo Exhibitions:
2020, Peña Noche Chicana, dA Center for the Arts, Pomona
2016, Paz y Amor Make Peace, MCC Gallery, UC Santa Barbara
2014, Corazones, Zona Rosa, Pasadena
2013, Bouquets, El Portal, Pasadena
2011, Honoring Alumna, Occidental College, LA
2008, In Lak'ech, You Are My Other Me: Ubuntu, Southern California Library, LA
2004, Galeria La Sirena, Mulege, Baja, Mexico
2000, Mascaras, Yahaira's, Pasadena
1999, Vibiana, The Santa Catalina Library, sponsor, Pasadena Armory
1999, Siempre En Mi Mente, Casa De La Cultura, Tijuana
1998, Como La Flor, Pasadena Arts Council Gallery
1997, Glory Be, Angel's Ink Gallery, San Pedro
1997, Angeles, Chiles y Mas Chiles, The Havana House, Whittier
1995, Stories Whispered, Visions Seen, Vis A Vis Gallery, Redondo Beach
Group Exhibitions:
2018, Cholas Chicanas, National Hispanic Cultural Center, Albuquerque, New Mexico
2018, The Art of Protest, Epiphany Church, Lincoln Heights. L.A.
2018, Contemporary Expression Latino Art, Borrego Art Institute, Borrego Springs
2017, The Latino Museum Revisited, Napa Gallery, Getty's Pacific Standard Times, CSU Channel Islands
2017, Artistic Uprising, The Bridge Program Benefit, Antioch University, L.A.
2015, Pasadena Society of Artists, Women's City Club of Pasadena
2014, Assemblage-Yarn Bombing at The Craft and Folk Art Museum, LA
2013, Blue Milagro's Dia De Los Muertos, Pasadena Playhouse Gallery
2014, Rito Y Recuerdo, National Museum of Mexican Art, Chicago
2012, Pacific Standard Time, Vincent Price Museum, East Los Angeles
2007, Latino Heritage Artists, The Freemont Gallery, South Pasadena
2005, Women Everywhere, Noah Purifoy Gallery, Watts Towers Arts Center, LA
2003, Latino Artists of Los Angeles, Millard Sheets Gallery, Pomona Fair Ground
2002, Diamond Jubilee, Pasadena Society of Artists, Pasadena Museum of History
2000, Honoring Cesar Chavez, Pasadena City Hall
1998, New Beginnings, The Armory Center for Art, Pasadena Society of Artists
1997, My Personal Icon, The Latino Museum of History, Art And Culture, LA
1995, 66th Annual Juried Exhibition, The Downey Museum of Art
1995, Women of The 90's, Small Works, The Armory Center For The Arts, Pasadena
1994, Los Angeles Biennial Juried Exhibition, Barnsdall Art Park
Awards & Honors:
2017, Presidents Purchase Award, Artistic Uprising, Antioch University, L.A.
2017. Cover Art Award, Love Can Grow Anywhere, El Canto de Los Delfines, publication, CSCI, Channel Islands
2015, Three International Latino Book Awards and Southern California Book Publicists award for book illustrator and author
2010, Certificate Commendations, California State Senate and The Assembly
2010, Award in The Arts, Mayor Bogaard, City of Pasadena
2011, Donald Liercke Award, Arts Communications, PCC
2008, Mixed Media Award, Latino Art Museum, Pomona
2007-8, Honoree, Art and Poetry, Los Angeles Department of Cultural Affairs
2006, Keynote Speaker Art Center College of Design, for Light Bringer Project, EFTA
2003, Plaque, Arts and Theater, Councilman Victor Gordo, Pasadena
1998, J. Henning Printmaking Award, Lankershim Gallery, Women Painters West
1998, First Prize, printmaking, Mountain View Gallery, Pasadena Society of Artists
1996, Women Painters West Award for Serigraphy, Orlando Gallery, Sherman Oaks
1995, Etching Purchase Awards, Roy and Jones Collection, Ink & Clay, CalPoly Pomona
Collections:
National Museum of Mexican Art, Chicago
Latino Museum of Art, Pomona
Avenue 50 Studio, Los Angeles
Pasadena Councilman, Victor Gordo
Michael Aparicio, Skanska International Construction
Former Los Angeles Mayor, Antonio Villaraigosa
Rigoberta Menchú Tum, Nobel Peace Prize laureate
Self Help Graphics and Art archives, Santa Barbara, Los Angeles
Congresswoman, Amanda Renteria
Rev. Richard Estrada, Pastor, The Epiphany Church, Lincoln Heights
C. Adrian
L. Becerra
Dr. B. Como Goldstein
Affiliations:
IWOSC, Independent Writers of Southern California
Honor Society of Phi Kappa Phi
Immaculate Heart Community
Pasadena Mexican American History Association
Southern California Women's Caucus for Art
Amigos del Arte Popular Mexicano
Self Help Graphics and Art
Education
Immaculate Heart College. serigraphy, Sister Corita, BA Bacteriology
CalState Univ. Los Angeles, MA Educ. Admin., MA Theater Costume Design
Art Center College of Design. portrait, illustration
Chouinard Foundation. South Pasadena, drawing
Self Help Graphics and Art. Silkscreen, monoprint, etching
University of Southern California. Education Credentials. Bilingual Education Credential