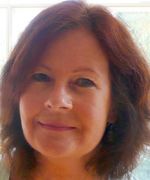 Biographical Information:
Kathleen Ballard was born in 1952 in Southern California where she still resides. As a child, she loved watching her Mother paint with oils. Drawing and painting was Kathleen's favorite activity as a child and still is to this day. She worked as a Signwriter for thirty years; twenty in the Motion Picture industry. In 2005, she decided to leave her position at Paramount Pictures to make art full time.
In the mid-eighties, her real journey with watercolor began when she attended her first class in the medium at Otis Parsons and has been passionate about it ever since. Kathleen's love and curiosity of watercolor prompted her to attend many workshops over the years which has influenced the way she paints today.
Her paintings are done in the traditional method and a realistic style using only transparent watercolor which is beautifully luminous. Most of the subject matter she chooses are landscapes and flowers in nature. Her unique still life paintings are in a series depicting the foil and cellophane of candy wrappers.
She belongs to various artist's societies and has been juried into many shows which has won her several awards. In 2009 she became a signature member of the National Watercolor Society.
Artist Statement:
In my watercolors, I strive to depict the serene and elegant side of nature whether it is a beautiful flower, garden, landscape or water surface. The choice of nature themes I select appeals to the style in which I paint, emphasizing a lot of detail, light-struck objects, and vibrant color.
The process of painting varies in experience and emotion for me in each of my works. It can be relaxing, exciting, frustrating, effortless, exhilarating, scary, humbling and satisfying; sometimes all in a single painting!
Being almost exclusively a studio painter, I use my own photographs for reference. From these, I make my drawing and proceed to paint from light to dark in many layers of color, building depth and form that develops the image to completion.
Solo Exhibitions:
2008 Creative Arts Group Jameson Gallery, Featured Artist, Sierra Madre, CA
2007 Restaurant Lozano, Sierra Madre, CA
2004 Paramount Pictures Commissary, Hollywood, CA
1994 Greco's Italian Restaurant, Pasadena, CA
Group Exhibitions:
2009 Pasadena ARTWalk, Pasadena, CA
2009 Creative Arts Group, Annual Art Festival, Sierra Madre, CA
2009 National Watercolor Society, 89th Annual Exhibit, City of Brea Gallery, Brea, CA
2009 Brand 38, Works on Paper, Glendale, CA
2009 Watercolor West 41st Annual Exhibit, Riverside Art Museum, Riverside, CA
2009 Pasadena Artist's Society, The Art of Giving, Aids Service Center, Pasadena, CA
2009 Creative Arts Group, Sierra Madre, CA
2009 American Watercolor Society 142nd Annual International Exhibit, Salmagundi Club, NY,
2008 Viva Gallery Score VII Exhibition
2008 Descanso Gardens Carriage House Gallery, La Canada, CA
2008 Pasadena Society of Artists 83rd Annual Exhibit, Brand Library, Glendale, CA
2008 National Watercolor Society All Member Exhibit, Viva Gallery, Sherman Oaks, CA
2007 Viva Gallery Score VI Exhibit, Sherman Oaks, CA
2007 Pasadena Society of Artist's, White's Gallery, Montrose, CA
2007 National Watercolor Society All Member Exhibit, Viva Gallery, Sherman Oaks, CA
2007 Valley Watercolor Society, Viva Gallery, Sherman Oaks, CA
2006 Segil Gallery, Holiday Small Works Show, Treasures, Monrovia, CA
2006 Brand 35 Works on Paper, Glendale, CA
2006 Pasadena Artist's Society, White's Gallery, Montrose, CA
2006 National Watercolor Society All Member Exhibit, Viva Gallery, Sherman Oaks, CA
1994 Shirley Pettibone Studios, Los Angeles, CA
Awards & Honors:
2009, Special Honors, "Beauties", Valley Watercolor Society, Waterworks, Viva Gallery
2008, Award of Merit, "Pond Reflections", Pasadena Society of Artists, Holiday Exhibit, Viva Gallery
2008, Top Honors Award, "Still Life with Wrappers", Valley Watercolor Society, Strokes of
Color, Viva Gallery
2007, Merchandise Award, "Pond Reflections 2", National Watercolor Society 87th Annual,
City of Brea Art Gallery"
2007, Merchandise Award, "Pond Reflections", California Watercolor Society 39th National
Exhibit, Presidio, San Francisco, CA
2007, Award of Merit, "White Roses", Pasadena Society of Artist's 82nd Annual Exhibit, Viva Gallery
2007, Honorable Mention, "Ten Cent" triptych", Pasadena Society of Artist's, White's Gallery
2007, Honorable Mention, "Sierra Madre Treasure", Creative Art's Group, Impressions of
Sierra Madre
Affiliations:
2006 Watercolor West
2006 American Watercolor Society
2006 Pasadena Society of Artists
2006 Valley Watercolor Society
1988-1998, 2006 National Watercolor Society, (signature member, 2009)
Education:
Pasadena City College, Otis Parsons School of Art, Art Center College of Design and Chouinards School of Art