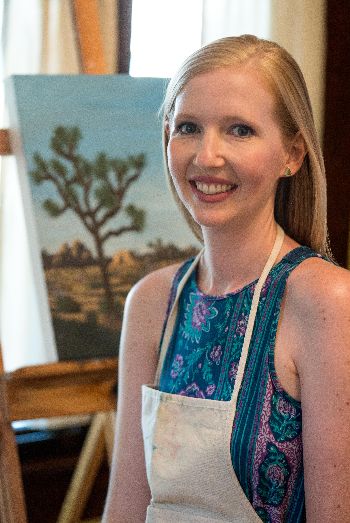 BIOGRAPHICAL INFORMATION:
Emily Suñez is a landscape and nature oil painter working out of her home studio in Pasadena, CA.  Having grown up in Virginia, she is in awe of the beauty of the southwestern desert landscape and its many unique and exotic plants. Through coursework at the Armory Center for the Arts and countless hours of experimentation in her studio, Emily has developed her unique artistic style.  Her inspiration comes from the studying the landscape of the southwest and frequent trips to Joshua Tree National Park and Scottsdale, Arizona.
Emily has recently shown her paintings in numerous juried shows throughout the state of California, including at TAG Gallery, Palos Verdes Art Center, Danville Village Theatre Art Gallery, Chico Art Center, and the Joshua Tree National Park Art Exposition at the 29 Palms Art Gallery. Emily has a BA from the College of William & Mary and an MA from New York University. 
ARTIST STATEMENT:
Painting is a form of meditation and healing, and I gain a sense of peace and connectedness to the natural world through my creative process.  I first picked up a paint brush as means of coping with chronic illness and have since discovered the healing powers of artmaking. What began as a tool for therapy quickly evolved into a passion for painting.  Working primarily in oils, I paint southwestern landscapes and plants.  I typically include Joshua trees, cacti, succulents, palm trees, and other desert plants in my work.  These plants and the harsh desert climate they inhabit represent growth, resiliency, and survival. 
While I work loosely from my photographs, I aim to go beyond the photo in my paintings.  I create an idealized and enhanced version of the image, portraying nature as pure and sacred.  My most recent work is about my own spiritual connection to nature and celestial bodies. To me, nature and spirituality are one. As Frank Lloyd Wright once said, "I put a capital N on Nature and call it my church".  Nature is a force greater than us, that humbles us, and unites us all as human beings on a shared planet in a shared galaxy. Through my work, I have developed a stronger connection to and appreciation of the natural world. I strive for my paintings to serve as a reminder to the viewer of Earth's beauty and sanctity.