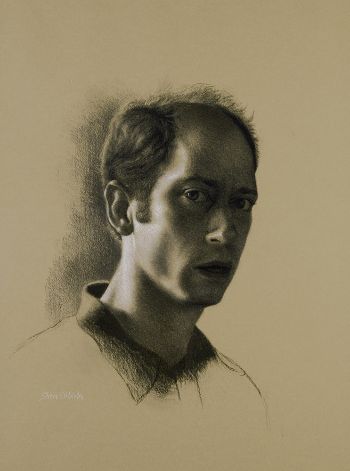 Biography:
Steve Ohlrich is an artist who comes from an artistic heritage including painters and wood workers. He has been drawing since early childhood and received awards at an early age. He earned a Bachelor of Fine Arts degree from the University of Illinois at Chicago with a minor in psychology. After serving the psychology community in and around Chicago for three years, Steve pursued artistic training at The School of Representational Art. He received a certificate after four years of extensive training in academic drawing and painting, and the study of composition and impressionistic color.
Steve draws inspiration from a wide variety of artists including the Old Masters of Western painting, American and European impressionists, and contemporary artists. His work includes realistic figurative works, portraits, still life and creative compositions. Steve's creative compositions are a combination of artistic skill and imagination, which give voice to his unique perspective on life and human endeavor past and present. Currently, Steve works on commission and pursues independent projects. He has sold his work to private collectors and has displayed his work in public exhibitions. He is an instructor at Pasadena City College's Extension program and works with students privately in his studio.
Presently, he resides with his wife and son in Pasadena, California.
Artist Statement:
I am inspired to paint because of the things I see and the feelings they evoke. I paint to tell these stories and I want my viewers to become a part of them. My work is representational and generally created directly from the subject before me. In some cases, I begin with the subject then allow my imagination to depart and build the story. The world is filled with stories whether real or imagined and I will continue to tell them.
Solo Exhibitions: 10th Street Gallery, Milwaukee, WI. September 4 to November 3, 2009
Group Exhibitions:
 "Summer Salon 2018", Artshare LA, Los Angeles, CA
"Scapes", Timothy Cobb Fine Arts, Milwaukee, WI. 2016
"Fantasy Art", Swiss Art Space and Gallery, Lausanne, Switzerland. 2015
"American Artists Professional League 87th Grand National Exhibition", Salmagundi Club, New York, NY. 2015
"Toronto Art For Peace", Moniker Gallery, Toronto Ontario, Canada. 2014
Amsterdam Whitney Gallery, Chelsea New York, NY. 2007-2008