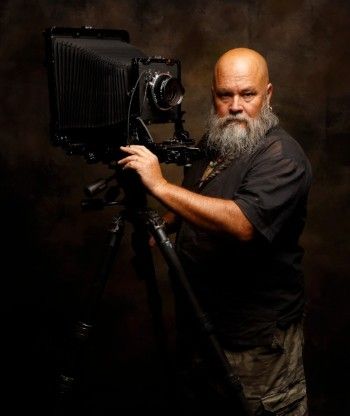 BIOGRAPHICAL INFORMATION:
My fascination with photography developed at an early age. Both my Grandfathers were photographers. My family has been having portraits made going back to the late 19th century. That history deeply informs my work.
I continued taking photographs throughout my years as a musician;
I was a founding member of the Jim Carroll Band, and later produced and engineered records. In 1991, after years as a musician, I began to devote myself exclusively to the study and practice of photography. I quickly realized my chosen medium of Large Format
Film photography. My main camera is an 8x10" although I use digital cameras now too.
I currently reside Highland Park with my Artist wife Jenna Didier and my artist daughter Ondine.
ARTIST STATEMENT:
Scrawled on the door of my darkroom are the words "Seeing is forgetting."
This quote from Robert Irwin encapsulates my approach to photography.
Using an 8x10 film camera and prolonged exposures or slowed down motion with the video, I am playing with time. I seek to discover an underlying essence. I want to be surprised. I want to see beneath the surface.
My use of slow motion video blurs the line between video and still photography.
My photographs are not so much depictions of lines and forms, produced with my eyes, with my "seeing", as they are an emotional response to my subjects.
This result is achieved with the careful juxtaposition of the ethereal and the material and, through the omission of all transient elements, the works become like distillations of hidden truths.
I ask my viewer not to seek meaning in my work but to experience their own emotional response to it.
Solo Exhibitions:
2001 Earl McGrath Gallery NYC,
2004 Globe Gallery, Seattle WA
2011 Smart Gals Salon, Los Angeles
Group Exhibitions;
2002 Summer Group Show McGrath Gallery NYC
2005 Summer Group Show, Earl Mcgrath Gallery West Hollywood
2008 Summer Group Show, Earl Mcgrath Gallery West Hollywood
2015 CA101 Show Redondo Beach
2017 Smokin' Drinkin' West Coastin',Think Tank Gallery LA
2018 CA101 Show Redondo Beach
2018 Group Show McGinty's  Gallery at the End of the World, Altadena