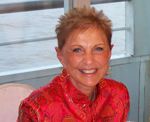 Biographical Information: Jackie Steimke is a native of Glenale, CA and has been married for over 50 years. She is a semi-retired R.N. who stopped working full-time in 2006 to allow her the freedom to pursue her real passion: GLASS.
Jackie has always been interested in crafts, and in fact comes from an artistic family. Her mother's hobby was making unusual and beautiful costumes. Her father's favorite pasttime was singing and playing the piano.
Discovering fused glass quite by accident, Jackie has evolved from making small pieces of jewelry to larger colorful platters, bowls and vases. Her love of color is influenced by frequent trips to Mexico.
Artist Statement:
Glass is a fascinating material to work with. You can cut the glass into a variety of shapes and arrange the pieces in a pleasing manner, but when you place it in the kiln, everything changes! The concept that you began with has shifted and flowed, has become something different than you envisioned, something more interesting, or more beautiful, or more creative. It adds a little mystery to the creative endeavor.
Small wonder then, that I am thrilled to have discovered an artistic medium that brings a little alchemy into my life. I have always been interested in doing crafts but since glass fusion has come into my life it has become my passion. I am filled with anticipation when I open my kiln on the day after a firing, because I know that the pieces that I began with, will have taken on a new form.
Each piece begins as 2 or more pieces of glass cut into a desired shape (some with other small pieces of glass in between the layers). They are then fired in a kiln at 1465 degrees or hight, cooled, cold worked (grinding, sanding) then placed in a mold and fired again. The length of firing time is approximately 7 or more hours for each firing.