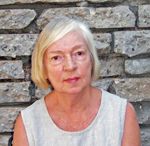 Biographical Information:
I was born in Bogota, Colombia and spent my childhood in South America. After finishing high school in Toronto, Canada, I graduated from Massachusetts College of Art in Boston, where I received a BFA, majoring in Printmaking. I studied art at the Boston Museum School, Pasadena City College and Cal. State Los Angeles, and have exhibited my work in Colombia, England, various cities in the United States, and presently in California where I live. I am a member of various art clubs and organizations throughout the country and have received many awards.
Artist Statement:
I began drawing before I could read, perhaps because my mother allowed me to color and draw on the walls of our house. The act of drawing has always been very fulfilling for me. It is an experience both joyous as well as tormenting. It is like a personal dialogue and the act of drawing always keeps me company. Drawing is the skeleton for whatever I create. Printmaking has allowed me to stretch my passion for drawing by forcing me to first create the "tool" which eventually creates the mark, which finally produces the print.
I work on plates made from zinc, copper, wood, plastic or cardboard, and run my prints off an etching press. I often work on a series of images showing related themes such as ten separate prints relating to migrant farm workers ranging from border crossings at night to work in the fields. During the last year I have made a series of prints illustrating Spanish proverbs. I have made serigraph, woodcut, engraving, lithograph, embossing and etching prints. I do all my own printing, and my editions are small. The imagery is detailed and usually representational with limited color and always printed on fine printing rag papers, and is always the result of my persistent, intensive love of drawing.
Solo Exhibitions:
1995 GulfSouth Gallery, McComb, MS
1992 Pasadena Arts Council at Plaza Pasadena, Pasadena, CA
1992 Vromans Bookstore, Pasadena
1988 Pasadena Arts Council
1987 La Cañada-Flintridge Library, La Cañada, CA
1983 Crocker Bank, Pasadena
Group Exhibitions:
2009 Brand 38, Brand Library, Glendale, CA
2008 Identity, Los Angeles Printmaking Society, Craft and Folk Art Museum, Los Angeles, CA
2007 Brand 36, Brand Library, Glendale, CA
2004 Woman Painters West, Viva Gallery, Sherman Oaks, CA
2001 "Multicultural Language of Art", Woman Painters West, Lankershim Arts Center, Los Angeles
2001 Brand 30, Brand Library, Glendale, CA
1998 People's Choice Art Competition, Meridian Museum of Art, Meridian, MS
1997 Juried Exhibition, Tupelo Artist's Guild, Tupelo, MS
1991 "Drawing Show", Los Angeles Art Association, Los Angeles, CA
Pasadena Society of Artists, San Bernardino County Museum, Redlands, CA
"Pacific Prints", Joint Exhibition Los Angeles Printmaking Society and Honolulu Printmakers, Amfac Gallery, Honolulu, HI
1990 "Cal Print 90", Los Angeles Printmaking Society, Occidental College, Los Angeles
"Fifth Annual celebration of the Arts", Pasadena Chamber of Commerce, South Pasadena
"National Printmakers Show", Los Angeles Printmaking Society, Laband Art gallery of Marymount College, Los Angeles
"Printmakers", Verdugo Hills Art Association, La Cañada Library, La Cañada
"Seven Western States", Long Beach Art Association, Long Beach, CA
"Small Images", Woman Painters West, Roberts Gallery, Santa Monica, CA
1989 "Gala at the Galeria", Glendale Arts Council, Glendale, CA
Pasadena Society of Artists, Pintoresca Library, Altadena
1988 Verdugo Hills Art Association, La Cañada - Flintridge Library, La Cañada
Woman Painters West, San Bernardino County Museum, Redlands, CA
1987 Pasadena Society of Artists, Brand Gallery, Glendale, CA
1986 Pasadena Society of Artists, San Bernardino County Museum, Redlands, CA
1984 "The traditionalists", Brea Gallery, Brea, CA
Factory Place Gallery, Los Angeles, CA
"Pacific Rim USA", Palos Verdes Community Arts and LA Printmaking Society, Rancho Palos Verdes, CA
Pasadena Society of Artists, Ibis Fine Arts Gallery, Pasadena
1983 Pasadena Society of Artists, Brand Gallery, Glendale, CA
"Basic Black and White", Century Gallery, Sylmar, CA
Pasadena Arts Council, Pasadena
1982 Pasadena Society of Artists, California Institute of Technology, Pasadena
Woman Painters West, San Bernardino County Museum, Redlands, CA
Woman Painters West, Mt. St. Mary's College, Los Angeles, CA
1980 University of Southern Maine, Gorham, ME
Craftschool Gallery, Lewiston, ME
Sharon Arts Center, Peterborough, NH
1979 Cyclorama show, Boston Arts Center, Boston, MA
"Printmakers", Massachusetts College of Art, Boston, MA
"New England Artists, Drawing Competition", DeCordoba Museum, Lincoln, MA
Awards & Honors:
1983 Norma Chuan Drawing Award, Pasadena Society of Artists
1986 Honorable Mention, prints, Pasadena Society of Artists
1987 Honorable Mention, prints, Pasadena Society of Artists
1988 First Place, graphics, Verdugo Hills Art Association
1989 First Place, prints, Glendale Arts Council
Norma Chuan Drawing Award, Pasadena Society of Artists
1991 Best of Show, Verdugo Hills Art Association
First Place, Graphics, Verdugo Hills Art Association
Norma Chuan Drawing Award, Pasadena Society of Artists
1998 Second Place, Graphics and Drawing, Meridian Museum of Art
Honorable Mention, Graphics and Drawings, Meridian Museum of Art
2002 Woman Painters West Award, Multicultural Language of Art, Woman Painters West
Honorable Mention, An Affair with Color, Woman Painters West
2002 Honorable Mention, Women Painters West
2004 Award of Merit, Pasadena Society of Artists
2004 Jean Henning Award, Women Painters West
2005 Honorable Mention, Walter Askin, juror, Pasadena Society of Artists
2006 Women Painters West Award
Affiliations:
1981-present Pasadena Society of Artists, Woman Painters West
1989-present Los Angeles Printmaking Society
1990 Los Angeles Art Association
1992 -94 Arts Alliance of Jackson, Holiday Art Tours
1993 Professional Artists League of Mississippi
1994 ArtSeen Partnership Gallery, Jackson, MS
1994 Mississippi Craftsmen's Guild
2000 -present Wood Engravers Network
2004 - present Colored Pencil Society of America
Education:
1979 BFA Massachusetts College of Art, Boston, MA 02115
1983-85 Graduate Studies in Art, California State Los Angeles
1996 Studied mezzotint with George Schuey, Printmaker, Walnut Creek, CA