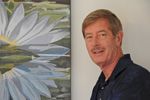 Biographical Information:
Hi. Just a few things about me.
I was born and raised in southern California. I attended the University of California, Los Angeles for undergraduate and University of Southern California for graduate degrees.
I have lived in Pasadena for 25 years where I have my art studio (a converted garage). In previous professional lifetimes, I have worked as a town planner overseas in Saudi Arabia, as well as a city planner and a transportation planner in southern California.
Artist Statement:
I have experimented with oil painting, over the last few years, on canvas, paper, and metal before landing on my media of choice - Luan wood veneer. This foundation imbues my detailed and colored works with, hopefully, a wholly unique look. I love how the wood grain interplays with oil paint and gives an extra dimension to the pieces.
I have painted polo matches, Springer Spaniels, Dory boat competitions, T-birds, flowers, an Egyptian Boab family, and other subjects.
Like a siren's call, certain images, during my life's journey, speak to me to paint them. I hope they speak to you, too.
Affiliations:
Pasadena Society of Artists
Education
BA UCLA, MA USC