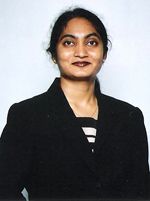 Biographical Information:
My life journey started from the grasslands of south Asia to the east cost of America via the Windy City finally arriving to southern California which is my home now. I truly admire diversity, vastness and the ever stimulating culture of Los Angeles which provides tremendous opportunities for art and artists to learn - unlearn and experiment.
I hold Master's (2001 & 1998) from US & India and Bachelor's (1996 & 1995) from India in the areas of Science and performing arts.
Artist Statement:
Nature and architecture fascinate me and intensify my passion to create. My admiration of architectural wonders by Antonio Gaudi and Frank Lloyd Wright and satin glass designs by Louis Tiffany, has led me to explore intricate geometrical designs in my work. I enjoy the complex interplay between lines and patterns that create intuitive abstractions and nature inspired creations. Strong & vibrant colors define the lines and curves.
Gel inks, acrylics, brushes and paper are the tools that enable me to reach my goal of creating art that is happy and energetic. Each painting has its own individual character that makes it unique and non repeatable, and depicts a dialogue between my medium and my self. As if the colors have a mind of their own, they either blend into each other or sometimes dissect the painting into dimensions that create a colorful kaleidoscope. The final outcome is the most out-spoken creation that projects a visual of balance and rhythm.
Painting is my way of unleashing energy and embracing freedom. For me it is passion unleashed to create a spark of connection with the world around me.
Group Exhibitions
2011
• Jan 8 - Mar 6, 2011: "A Murder of Crows and Other Avian Stories" , 4th Annual Bird Themed Exhibit at Cactus Gallery, Eagle Rock, CA
• Mar 19 - April 9, 2011: PSA New Members Exhibit at Towns Burr Gallery, Burbank, CA
• April 16 – May 14, 2011: Saints & Sinners XXIII at The Folk Tree, Pasadena, CA
• April 19 – June 10, 2011: Employee Art Show at O'Melveny & Myers (Law Firm), Los Angeles, CA
2010
• Dec 15, 2009 – Feb 10, 2010: Earthworks 06 at SHOJIN, Los Angeles, CA
• March 6 – April 10, 2010: Saints & Sinners XXIII at The Folk Tree, Pasadena, CA
• April 10 – May 5, 2010: Six Legged Freaks (A bug themed art show) at Cactus Gallery, Eagle Rock, CA
• June 5 - July 3, 2010: Garden of Eden (Idyllic Visions) at The Folk Tree, Pasadena, CA
• July 3 - July 4, 2010: Pine Knot Village Art Walk by Mountain & Desert Art Association, Big Bear, CA
• Oct 9 - Nov 6, 2010: 27th Annual Dia De Los Muertos (Altars & Ephemera Exhibition) at The Folk Tree, Pasadena, CA
• Oct 9 - Nov 6, 2010: Celebrating the Pasadena Art Weekend 2010 at Nova Framing and Gallery, Pasadena, CA
• Oct 9, 2009: 4th Annual Pasadena Art Walk at Pasadena Playhouse District, Pasadena, CA
• Oct 23 - Nov 28, 2010: Artist Choice Exhibition at Citibank Silver Lake Gallery, Los Angeles, CA
• Dec 1 - Dec 24, 2010: Tiny Treasures - 5th Annual Miniatures at Cactus Gallery, Eagle Rock, CA
Affiliations:
2010 Pasadena Artist Society