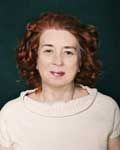 Biographical Information:
Painting and drawing have been a part of Linda Serrao's artistic life from childhood, when she filled the backsides of used paper that her father would bring home from work. Raised in California's Central Valley where there was no real access to art schools, she checked out every book on drawing from the Bookmobile, teaching herself anatomy of animals and people before high school. A large portion of her adult career was devoted to painterly, impressionistic portraits and landscapes.
Linda Serrao began her professional career in the 1960's in jewelry making, selling to boutiques in the San Francisco Bay Area. She produced sterling silver cast pieces in very limited editions and hand wired one-of-a-kind designs. From the very beginning of her career, her works have been inspired by the organic shapes of nature: leaves, flowers, snowflakes and the asymmetrical curves and swirls of water and clouds. She is one of the few designers of "vintage jewelry" who is still creating art today.
Exploring various media, including charcoal, pencil, oils, acrylic, and jewelry, Serrao eventually found her true calling in realistic bronze sculpture. Classic Greek sculptures provide stylistic inspiration, although Bernini (17th Century Roman) is her favorite sculptor. Specializing in character portraits, most of her works are life size or nearly so. All bronze works are produced in very limited editions and are of the highest quality in execution and finish.
Artist Statement:
My work is figurative and realistic, meant to capture a moment in time in the lives of real people. Beauty comes in all sizes, colors, ages, and cultures, so my subjects are quite varied. I believe that art should reveal a little about the times in which it is created, and I strive to subtly imply a mood or circumstance or event within my figures.
Exhibitions:
August, 2009, Loveland Sculpture Show, Loveland, CO
May, 2009, Mendocino Sculpture Show, Fort Bragg, CA
May, 2009 Bancroft Sculpture Show, Walnut Creek, CA
April, 2009 Sculptors' Dominion Show, San Antonio, TX
2007 and 2008 Fullerton College Art Show, Fullerton, CA