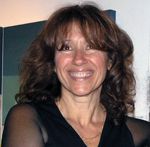 Biographical Information:
SAVIO is a Contemporary Latin American artist born in Buenos Aires, Argentina. She grew up in an Italian family listening to classical music, going to the Colon Theater Opera House and studying classical ballet. She won her first art award at the age of 7 years old, entering a contest for the Continental Drawing School via correspondence. She then showed up at the Buenos Aires Botanical Gardens to participate in an outdoor Plein Air competition at the age of 14- and forgot her brushes! In a panic, she improvised and painted with her fingers, taking the First Place Award. Her next recognition came from the Eduardo Sivori Museum for a colorful depiction of a dancer in oil pastels. A professional dancer herself, she continued to paint in the dressing rooms of all the major theaters in Buenos Aires, the South American Paris. Her first solo show would be in honor of the dancers she had admired at the Colon Theater when a tragic airplane accident took the lives of the entire company. SAVIO specializes in depicting forms in movement through vibrant colors.
SAVIO's dance career took her north from the stages of the most renowned theatres of Argentina: El Nacional, Maipo, Astros, San Martin, and Cervantes. She toured throughout Latin America with many of the members from "Tango Argentino." She also played the part of 'Kitty Katz,' one of Bob Fosse's leggy dancers in "Chicago: The Musical." She became a choreographer in Mexico City working for Televisa's Univision network. SAVIO came to California and fell in love with the scenery and the warm climate, from the streets of San Francisco to the theme parks in Los Angeles. She started exhibiting her art at the University of California Los Angeles and the University of Southern California. The Consul of Argentina asked her to inaugurate the new Consulate in Los Angeles, receiving special recognition from long time L.A. Mayor Tom Bradley. Warner Brothers Films selected SAVIO's art work to be featured in the movie "Grumpier Old Men," starring Ann Margret, who is shown 'painting' SAVIO's artwork in the film, and Darryl Hannah. Film director Howard Deutch acquired one of SAVIO's paintings from the movie for his art collection. She also created the artwork for the Los Angeles Tango Festival held at Paramount Studios in Hollywood. This led to SAVIO being commissioned by the Los Angeles County Department of Arts and Recreation to create the poster for "Tango Magic!" at the Hollywood Bowl, where L.A. Philarmonic conductor John Mauceri acquired a SAVIO painting for his art collection also.
SAVIO has had many art gallery showings throughout the Southland, such as the Spring Street Gallery, FAD Gallery, Fine Art Gallery, the Long Beach Museum of Arts, the Jonathan Club, Gordon Gallery, Studio Gallery, Argentine American Cultural Foundation, Music Cinema Art, Master Gallery and Self-Help Graphics. SAVIO's art has travelled to New York City's Art EXPO and the Lt. Governor's Ball in Toronto, Canada. Her work was exhibited in "Made in California: 1900- 2000" and "Wet Paint" at the Los Angeles County Museum of Art (currently available through LACMA's Art Sales and Rental Gallery).
She has been featured in publications such as American Artist's second edition as a featured contemporary artist as well as the California Art Review. SAVIO was also commissioned to paint a colorful mural of dancers leaping through the air for the California State University at Los Angeles. SAVIO created set designs for the John Burroughs High School Instrumental Music Association's "Carmina Burana," under the musical direction of Tom Whaley. This won her acclaim from the Vietnam Veterans Association and a civic award from the City of Burbank for her representation of the Vietnam Veteran's Memorial "The Wall."
Artist Statement:
I express myself through movement, which is what I did as a professional dancer and what I do when I paint. I am inspired by human contact, by how a person talks and feels. I always paint the human figure, but in my own way. I can describe myself as a spontaneous artist. I paint with my soul. I never copy anything or use a model. I paint with a lot of feeling and love for the subject matter.
Group Exhibitions:
Atlas Gallery - 2009 "Group Show" (Chicago, IL)
Blu Beverly Hills- 2008 "The Art of Blu" group show (Beverly Hills, CA)
L.A. County Museum of Art - 2007 "Wet Paint" LACMA Art Sales & Rental Gallery group show (Beverly Hills, CA)
Pasadena Showcase House of Design - 2005 "Empty Streets" selected by Cynthia Bennett & Assoc. (San Marino, CA)
American Society of Interior Designers - 2005 "March Madness" ASID group show Pasadena University Club (Pasadena, CA)
Pasadena Playhouse - 2004 Award for "Thousand Faces of Shakespeare" group show Pasadena Society of Artists (PSA) (Pasadena, CA)
Fine Artists Factory- 2003 Award for "The Lives (Homage to 911 Victims)" group show Pasadena Society of Artists (PSA) (Pasadena, CA)
L.A. County Museum of Art, 2000 "Made in California: 1900- 2000" group show (L.A., CA)
Burbank Creative Center for Arts - 2000 "Retrospective: 1980-2000" solo show (Burbank, CA)
JBHS Instrumental Music Assoc. - 2000 Mayor's Award "Vietnam Veterans Assoc. Memorial" (Burbank, CA)
California State University L.A. - 1999 "Health Services Department Wall Mural" (L.A., CA)
Los Angeles County Hollywood Bowl - 1998 "Tango Magic" event poster & solo show (L.A., CA)
Self Help Graphics - 1998 "Women (Mujeres)" group show (East L.A., CA)
Argentine Consulate - 1998 "Inaguration" solo show (L.A., CA)
Paramount Studios - 1998 "L.A. Tango Festival" event poster & group show (Hollywood, CA)
F.A.D. Gallery - 1997 "Soul Gaze (L.A.'s Homeless)" solo show (West L.A., CA)
Spring Street Gallery - 1996 "Selected Expressions" group show (Downtown L.A., CA
Studio Gallery - 1996 "Backstage at the Ballet" solo show (Burbank, CA)
Art EXPO- New York - 1994 group show (New York, NY)
Master Gallery - 1994 "American Ballet" solo show (Burbank, CA)
Warner Brothers Motion Pictures - 1994 paintings for the motion picture "Grumpier Old Men" (Burbank, CA)
Jonathan Club - 1994 "Tango" solo show (Downtown L.A., CA)
Gordon Gallery - 1992 "Spirit of the Dance" group show (Brentwood, CA)
UCLA - 1989 International Student Center "Women in Watermedia" solo show (Westwood, CA)
University of Southern CA, 1988 Argentine American Cultural Foundation solo show (L.A., CA)
Casa de Espana - 1979 First Place Award from the Consulate General of Spain (Los Angeles, CA)
Eduardo Sivori Museum - 1978 "General San Martin Cultural Center" First Place Award (Buenos Aires, Argentina)
Buenos Aires Botanical Gardens - 1973 YPF Award (Buenos Aires, Argentina)
Gran Rex Theatre - 1970 "Homage to Fallen Dancers" commemorating Colon Theatre Ballet (Buenos Aires, Argentina)
Awards:
Certificate of Recognition Outstanding artistic efforts in design and creation, City of Burbank,11/16/99
Los Angeles Tango Festival, City of L.A. Cultural Affairs Dept., 10/15/97
Certificate of Appreciation for Argentinian Art Exhibit, Casa de la Cultura of Long Beach, 7/27/96
Education:
Glendale College - 1987-1989 Art Department Chairman Martin Mondrus' Teacher's Aide (Glendale, CA)
Private study with master painter Vicente Forte (Buenos Aires, Argentina)
Argentine Ministry of Education National School - 1967 - 1972 (Buenos Aires, Argentina)