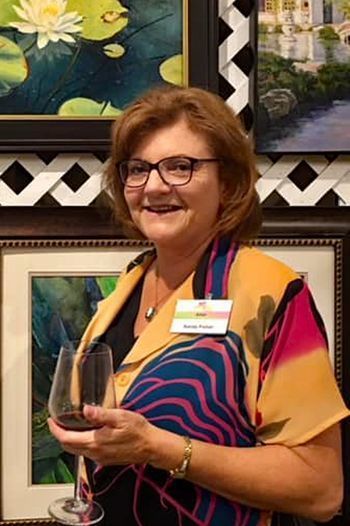 Biographical Information:
As a native of Southern California, Sandy spent many trips exploring the diverse landscape of the state. Her family often traveled throughout the Western United States by automobile for weeks at a time. Her love of the outdoors was intensified when she met her husband John, an avid adventurer, rock climber, and mountaineer. Together they backpacked into the Sierra Nevada Mountains and hiked wherever their travels took them. Sandy was captivated by the scenery, frequently taking photographs and imagining herself one day painting what stirred her soul. Although, she always found outlets to engage her desire to create, the dream of painting took a back seat until well after Sandy graduated college, married, established a family and operated her own business. Sandy pursued her interest in painting after she was confronted with her own mortality through the diagnosis of metastatic cancer to her spine in 2005. This life-altering event made long hikes into the wilderness no longer feasible, but provided the catalyst for Sandy to quit her professional career in the banking industry to pursue her dream. She was finally able to indulge her lifelong passion to paint in a focused and dedicated manner. As in her business career, Sandy brings her professionalism to her quest to improve her skills as an artist. She has taken courses in art at College of the Canyons, and studied extensively with plein air oil painter Richard Gallego and watercolor artist Pong Apinyavat. She also took classes with contemporary figurative artist, Melanie Florio. Every year, Sandy furthers her education by participating in workshops and classes with renowned landscape artists such as Kathleen Dunphy, Paul Kratter, Frank Serrano, Phil Starke, Thomas Schaller, and Keiko Tanabe. Sandy is an award winning artist and a member of the California Art Club, Laguna Plein Air Painters Association, and Santa Clarita Artists' Association, where she serves on the Executive Board. Her commitment to the benefit of the visual arts to her community, resulted in Sandy being a key activist for the formation of an Arts Commission in Santa Clarita, where she resides, and served during the formative first years.
Artist Statement:
I view the landscape as a visual symphony; complex, yet innately understood from within one's soul. Each major element such as a tree, rock, shrub, or creek is like a note on a musical staff. Some are repeated in rapid succession and others are solitary and widely dispersed. There are passages in the scene which are painted quietly and slowly through the use of soft edges and abstract shapes. Other passages are louder and marked by increased contrast, chroma, and detail. There is rhythm and harmony in this natural world and confirmation of the Divine. It is the song in my soul, which I translate onto canvas when painting a scene. My primary body of work consists of small representational landscape oil paintings. The majority of which are started en plein air, as it provides me with the best opportunity to observe and capture the nuances of nature. I then focus on finishing the painting in studio by reflecting on my initial response to the scene and making any necessary adjustments to recreate that feeling of wonder. Additionally, I draw on reference photos for more detailed larger scale works including landscapes and other subjects ranging from botanical to architectural.