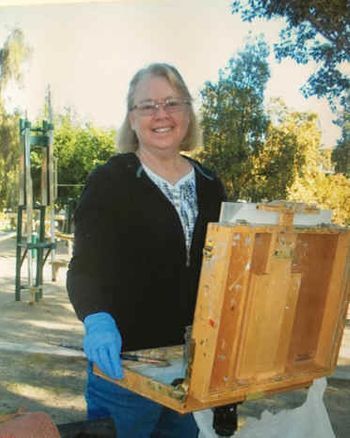 BIOGRAPHICAL INFORMATION:
Rosina has become an active member of several art associations, working on  committees and serving on the board, supporting the gallery events. She enjoys the opportunity to meet and learn from other artists. Her steady schedule of plein air painting is the foundation for her impressionistic approach.
ARTIST STATEMENT:
Each work of art offers an opportunity for the artist to communicate an understanding and appreciation for the world around them. The individuality of our expression is as personal and unique as each one of us.
Painting with oil is my passion. The strong brush strokes and partially mixed colors of the California Impressionists inspire me. It is almost magical to be able to capture harmonious colors with all their subtle nuances. I look for the complicated play of light and shadows to create the sense of three dimensions on a two dimensional surface or to describe the mood of a special place or time of day. Above all, the challenge is to create a sense of connection between the viewer and the subject. The painting invites the viewer to step away from the realities of the world into a moment inspired by their response to the image.
Affiliations:                                                
California Art League
Mid Valley Arts League
Pasadena Society of Artists
San Fernando Valley Art Assoc
Verdugo Hills Art Association