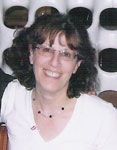 Biographical Information:
Artist Statement:
I studied painting and drawing in New York, culminating in a BFA and teaching credential. I've worked in graphic design, illustration, teaching and studio art, and eventually relocated to the west coast.
I paint in watercolor and tend to concentrate on the landscape, photographing my own reference material. Occasionally, I work paint and colored pencil into my prints. I've drawn inspiration from a myriad of sources, including the Arts and
Crafts Movement and the California Plein Air Painters.
My printmaking incorporates etching, block printing, flexography and transfer techniques. I enjoy the craftsmenship involved in the handling of the materials and of the press. I also love the fact that in printmaking, things happen that one cannot predict or replicate.
I've been attracted to diverse subject matter, from both the natural and urban environments. I'm currently working on a series of insect etchings, carved plates, and photographic images gathered into "Collections". These projects draw me into previously hidden worlds that I can reveal and document. Much of what I've recorded no longer exists, and it is that ephemeral, transitory quality that intrigues me.
Solo Exhibitions:
Group Exhibitions:
Awards & Honors:
Collections:
Affiliations:
Education