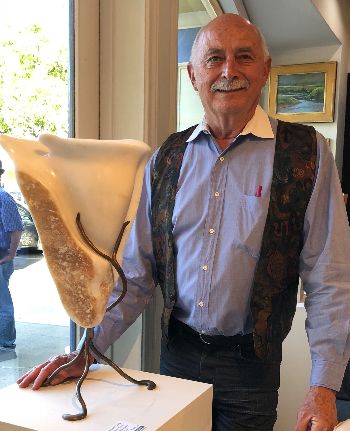 Biographical Information:
I have devoted my life to art since my 2001 retirement from a 30 year career as a Physician Assistant. I had served in the USAF as a Medical Corpsman 1966-69. During my medical years, my studio practice was kept alive with creations in wood, clay and stone. Studies at different schools, meeting other artists, and obtaining a BFA at the University of Washington, provided me with an inspiring framework from which to develop my style. Abstract expressionism in drawing and painting, bold, curves in wood and stone, and also with sensual, warm expressions in clay --- all seen in my portfolio of almost 50 years.
Having been a charter member of Northwest Stone Sculptors Assn. in Seattle, (1987), my leadership established their annual symposium, still a successful event for stone sculptors. My insights helped develop other symposiums in Oregon, British Columbia, and California. Having helped start California Sculptors Symposium Inc, 501c3, I was Symposium Director for 10 years.I have been a volunteer tutor of art since 2007 at Tierra del Sol, a school for adults with developmental challenges. I exhibit frequently in the Pasadena / LA area and regularly in Palm Springs for over 15 years.
Artist Statement:
" Expressing what I love through art "
My creativity has taken a new rhythm of spontaneity, passion, media, and deeper meaning. From creative writing to painting, sketching to sculpting, I have pieced together an interesting 'quilted' perspective. My approach to art is based on our living world; people, animals, plants, and the universe. My style comes from feelings for the subject or material. The human body has an awesome presence with its endless curves, movement and intrigue. Smooth or textured, shapes and colors of nature have all caught my interest.
Solo Exhibitions:
Occidental College September 2001
Exhibitions:
Numerous PSA Exhibitions since 2004
Desert Art Center Gallery, Palm Springs 2007 >
Aunt Effie's Sculpture Garden, Palm Springs 2011-2014
Desert Art Collection, Palm Desert 2004-2006
Numerous Exhibits in the Pacific Northwest 1986 >
Washington D C 1988
Public Art Installations:
Washington State Convention & Trade Center, Seattle, WA
Kaiser Medical Center / Hospital, Seattle,WA
Instituto de Allende, San Miguel de Allende, GTO,Mexico
and in private collections across USA and Canada
Affiliations:
Pasadena Society of Artists 2004 >>, President 2014-2020
California Sculptors Symposium 2003 >
Northwest Stone Sculptors Association 1987 >
Education
BFA University of Washington, Seattle,WA 1973-1976
Burnley School of Commercial Art,, Seattle,Wa
University of St Thomas, Houston,Tx