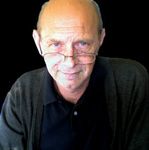 Biographical Information:
Harry Moody received his formal training as an artist at the Frankfurt Stadel Fine Art Academy, Frankfurt, Germany. His career in the arts include Fine Arts Dealer, Gallery Owner, Membership in CINOA, Appraiser, Conserver/Restorer, participant in numerous Art Fairs in Maastricht, Koln, Munchen, Frankfurt, author and art critic for Art-i-fact, freelance curator for the Bellvue Art Museum, Seattle, Ukai Museum,Tokyo and for privately owned collections, and was on the Board of Trustees at the Seattle Fine Art Academy.
Throughout his professional life, Harry Moody has pursued a dialogue concerning art ideals and the necessity to express oneself artistically. He has exhibited at the Stadel Museum Frankfurt, the Landes Museum Wiesbaden, at the Untitled Gallery Los Angeles. His abstract paintings in oil are currently being represented by the Lora Schlesinger Gallery Santa Monica, William Turner Gallery Santa Monica and TKO Art, LLC in Irvine, California.
Artist Statement:
I have always been fascinated with the idea of what I "see" as opposed to what I " think" I see. Visual associations are twofold for me. On the one hand, there is the obvious: a glass is a glass and a flower is a flower. On the other hand, when I concentrate on "seeing" the glass instead of listening to my thoughts, the glass explodes into a foray of shades and tones within forms. This realization has been the essence for why I do abstract paintings.
Every painting for me is a leap into the unknown. I apply oil pigments using a squeegee, a constant process of composing and destroying. Regardless of my intentions, the painting takes on a life of it's own. As I work, offering my limited honesty and humanity, it reciprocates with a respect I might not have conceptualized. Eventually the painting glares at me, saying, "I exist, I am alive, I have a soul and harmonize". At this point, I know that the painting is finished.
The drive is always for those moments of clarity. They are not given to me. I have to work for them. Themes are continued investigations based on my life observations. "Grey Zones" are exactly that: shades of grey, uncertainty and lack of structure. The "36" x 36 " Series" has a lot to do with me thinking in a box yet trying to contain the intangible. Ultimately, I consider my art as being introverted with points of contemplation.
Solo Exhibitions:
2011 Atwater Gallery, Los Angeles, CA,
Group Exhibitions:
2011 Untitled Gallery, Los Angeles, CA,
1977 Landes Museum, Wiesbaden, Germany
1976 Staedel Museum, Frankfurt, Germany
Collections:
TKO Art, Irvine, CA
Affiliations:
Pasadena Society of Artists
Abstract Artist Gallery USA
William Turner Gallery, Santa Monica, CA
TKO Art, Irvine, CA
Education
M.A. Staedel Fine Art Academy, Frankfurt, Germany
A.A. Franklin College, Lugano, Switzerland