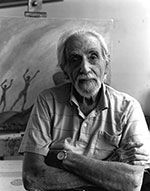 Biographical Information:
Martin Mondrus has had over twenty solo exhibitions from 1943 to the present. He has exhibited widely in Califor- nia and other areas in the United States. In addition, he has been represented in several group shows in Europe and Asia. His paintings and prints are in many private and public collections including the Downey Art Museum, The Skirball Museum, Gardena High School and the Senior Eye Gallery.
In 1989, Mondrus completed a large mural at Glendale College where he also taught drawing and painting for thirty- four years. In 1964, he initiated and taught a printmaking class at Glendale College. Mondrus has won numerous awards for his work, and in 1989 he was awarded the Service to the Arts award from the Glendale Regional Arts Council. He also received special recognition from the California State Legislature for his contribution to art and teaching. Mondrus is an honorary member of the Pasadena Society of Artists and a member of the Los Angeles Printmaking Society.
Artist Statement:
I am not usually aware of having a specific purpose when I paint. Art is so much a part of me that it is difficult for me to imagine not being deeply involved in it. Sometimes on a clear day, most often in the winter or spring, I see vistas filled with colors, life and movement. The intensity of this experience inspires me to start a painting and this will often bring me more in touch with what I see and feel.
After many sketches and much deliberation, I settle on a particular subject or view. Perhaps as many artists have done before me. I am seeking the universal by approaching the particular. Usually I return to work on the painting several times before I develop it further in the studio.
I struggle with the problem of how different times of day and light conditions reveal an apparent, very different real- ity. My preference is to confront a fundamental underlying core of the subject, independent of fleeting light condi- tions.
Technique is very important to me, but only in the sense that it enables me to execute what my inner needs and artis- tic impulses dictate. Technique then becomes for me an integral part of the whole process that changes and evolves
as my artistic aims change and evolve.
Education
• First art classes at the Art Center School, Los Angeles
• Bachelor of Arts Degree, California State University, Los Angeles
• Master of Fine Arts Degree from Claremont Graduate School
• Special studies at Otis Art Institute, Los Angeles
• Special studies at the Atelier 17, Paris