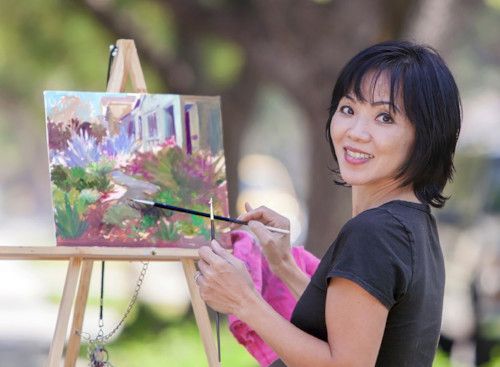 Mina Ho Ferrante is also known as Hồ Mộng Nhã Uyển in her native country of Vietnam, where she lived until she was 21. Before moving to the United States, she had a solo exhibition of silk paintings at the Fine Art Association of Ho Chi Minh city. The city's daily news then named her "Vietnam's youngest solo exhibition artist."
In America, Mina attended The Academy of Art College, San Francisco. During the third year, she was one of the 35 students recruited from 13 top art colleges in America and Canada to attend Walt Disney's Animation Training Boot Camp. Upon completing the "Boot Camp," Mina was one of the three students who received a scholarship and a post graduation offer to work for Disney Feature Animation Studios.
At Walt Disney Animation Mina helped design movie sets for animation films included Atlantis, Treasure Planet, Home on the Range, Tarzan 2 and Lilo and Stitch 2.
Mina is an active member in numerous art organizations and is continually involved in state-wide exhibitions across California, earning many awards with her expressive and lively paintings.
Mina now lives in Burbank, California with her husband and three children. When not taking care of her family and painting, she volunteers in the community and writes. Mina also teaches drawing and painting classes for both adults and children. In January 2016, she had her first book published. It's a bilingual fiction titled "Prince of the Sea," which she wrote and illustrated.
ARTIST STATEMENT:
I'm an artist and mother of three bright and loving children. Being a full-time mother and a passionate artist is not an easy task.
I also like to volunteer for our community, sharing and utilizing my artistic skills. Balancing my family, community volunteer work and keeping my creative fire alive is an art in itself.
I came from a poor country where art is a luxury and out of reach to common people. I grew up in war and post-war time in Vietnam. As a young child, I experienced a life of poverty and starvation, full of near-death catastrophe exposure, and lack of freedom. Now living in this wonderful country, I realize that I have received so much from it, and I also have so much to offer back to others.
As my children grow, my love for life is maturing too.
However, the process of personal growth and artistic maturation is not painless. Nevertheless, I have learned that within my ability, everyday, I can always make a small difference in the world I'm living in, one bit at a time.
Solo Exhibitions: 1991, Spring Show, Art Fair, San Jose, Ca 1989, Exhibition of Silk Paintings, Ho-Chi-Minh Fine Art Association Gallery, Ho-Chi-Minh City, Vietnam
Group Exhibitions;
December 6-20-2016, The Colors of Winter, San Fernando Valley Arts and Cultural Center Gallery, Tarzana, Ca
November 4, 2016, The BAA Fall Art Exhibit, Creative Arts Center Gallery, Burbank, Ca
July 2016, 59th Juried Exhibition, Haggin Museum, Stockton, Ca
May 2016, GAA's Spring Salon 2016, Norik's Gallery, Glendale, Ca
April 2016, BAA Spring Show, Geo Gallery, Glendale, Ca
December 2015, Small Works, Diggs Gallery, Montrose, Ca
November 2015, The Face Award-International Exhibition, Los Angeles, Ca
October 2015, BAA's Fall Art Exhibit, Creative Arts Center Gallery, Burbank, Ca
April 2015, BAA's Spring Art Exhibition, Geo Gallery, Glendale, Ca
January 2015, USSF Chilau Visitors' Center, La Canada Flintridge
November 2014, BAA's Fall Art Exhibit, Creative Arts Center Gallery, Burbank, Ca
April 2014, BAA Spring Show, Geo Gallery, Glendale, Ca
November 2013, BAA's Fall Art Exhibit, Creative Arts Center Gallery, Burbank, Ca
April 2013, BAA Spring Show, Geo Gallery, Glendale, Ca
November 2012, BAA's Fall Art Exhibit, Creative Arts Center Gallery, Burbank, Ca
April 2012, BAA Spring Show, Geo Gallery, Glendale, Ca
April 2011, BAA Spring Show, Geo Gallery, Glendale, Ca
May 1997, Stanford University Art Show, Stanford University Gallery, Stanford, Ca
April 1997, AAC Spring Show, Academy of Art Gallery, San Francisco, Ca
Awards & Honors:
2016- First Place- Glendale Art Association's The Colors of Winter
2016- Best of Show - Burbank Art Association's Fall Art Exhibition
2016- Second Place and Honorable Mention – The Haggin Museum's 59th International Juried Exhibition
2016- Best of Show – Glendale Art Association's Spring Salon
2015- Honorable Mention – Glendale Art Association's Small Works
2015- Best of Show - Burbank Art Association's Fall Art Exhibition
2015- Best of Show - Burbank Art Association's Spring Show
2014- First Place - Burbank Art Association's Fall Art Exhibition
2014- Second Place - Burbank Art Association's Spring Show
2013- First Place - Burbank Art Association's Fall Art Exhibition
2013- Best of Show and First Place - Burbank Art Association's Spring Show
2012- First Place - Burbank Art Association's Fall Art Exhibition
2012- First Place and Third Place - Burbank Art Association's Spring Show
2011- Honorable Mention - Burbank Art Association's Spring Show
1997- Third Place – Academy of Art Spring Show
1997- First Place – Strathmore International Illustration Competition
Affiliations: Member of Portrait Society of America, California Art Club, Burbank Art Association, Pasadena Society of Artists, Glendale Art Association and Women Painters West
Collections: Private Colletors
Education: BFA, The Academy of Art College, San Francisco, Ca
Rev Dec 2016