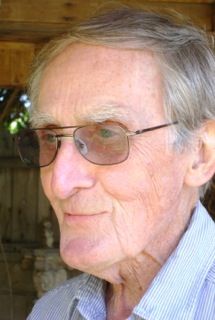 Biographical Information:
Peter McDonald fell in love with watercolor at first brush stroke but he has never considered himself a traditionalist.
Over many years he has developed a style using intricate black and white line work to define his abstract paintings and create a new way of seeing the medium earning him recognition with numerous awards.
"I want you to see watercolor in a different way," he says. "I'm asking you to get up close and personal with the work, to see the magic of the medium.
"Beginning with a base of poured color, I use line to draw attention to those wonderful areas of transparency and chameleon trickery which aren't seen or overlooked at a distance....The challenge, of course, is to draw the viewer in."
The typical reaction the Australian born artist get to his work is: "I've never seen anything like this." But he credits such mentors as abstract-impressionist, the late Alex Vilumson. and iconic watercolorists Fealing Lin and Tom, Fong for shaping his talent.
"Alex encouraged me to find my own path," he explains. "Fealing gave me everything I know about watercolor and she and Tom gave me the courage to take risks and have fun doing it. 'If you're not having fun,' Tom told me, 'then why paint!' "
The Los Angeles based artist is a three time winner of the Pasadena Society of Artists' Yoko Cohen Award and has twice won the Valley Watercolor Society's Top Honor award. Other honors include the National Watercolor Society's Frode Dan Award.
"Peter's talent and professionalism is what makes galleries work," says Bill Knaurer, manger of The Cove Gallery in Laguna Beach which represented the artist for many years.
Artist Statement:
Watercolor has a reputation as a difficult medium but I believe it is only because people want to control the water. For me each painting is an adventure, a journey of discovery. As I pour color and play with shapes and texture I uncover themes and ideas. The final step is always my line work which showcases the wonders of the medium. Watercolor is my love and line is my passion.
Solo Exhibitions:
2010 Emerging Artist Series (Coffee Gallery, Altadena, CA)
2008 Blood, Sweat & Tears (Finns, Westlake, CA)
Group Exhibitions:
2021 Aqua Activated (Virtual Gallery show)
2020 PSA 95Th.Annual Exhibtion (White's Gallery, Montrose)
The Second Half (Las Laguna Gallery, Laguna Beach)
Valley Watercolor Society Juried Exhibition (Encino Art Center)
2019 Kiwi Annual Art Show (Arts Complex, Santa Monica)
2018 Small Wonders (Cove Gallery Laguna Beach, CA)
Oceans Devotion (Cove Gallery, Laguna Beach, CA)
Unity Project (Cove Gallery, Laguna Beach, CA)
Abstraction, Cater-Sexton Gallery, N. Hollywood, CA)
2009 NWS Members Exhibition, NWS Gallery, San Pedro, CA)
NWS Showcase (San Fran. State University, CA)
Awards & Honors:
2020 First Place, (Valley Watercolor Society Exhibition)
2019 Yoko Cohen Award (PSA Exhibition)
2018 Yoko Cohen Award (PSA)
2018 Special Honor, Top Honor, Special Honor, Top Honor Valley Watercolor Society
2016 Special Honor, Top Honor, Special Honor, Top Honor Valley Watercolor Society
2015 Yoko Cohen Award (PSA)
2012 McBride Landscape Award, PSA Annual Exhibition
2011 First Place, Thousand Oaks Art Association Show
2009 Frode Dan Award, National Watercolor Society Show
2009 Top Honor, Valley Watercolor Society Annual Show
Affiliations:
National Watercolor Society
Pasadena Society of Artists
Valley Watercolor Society