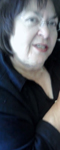 Biographical Information:
My name is Gloria Lujan-Whitney. I am primarily a printmaker. I have always expressed myself through some form of artistic interpretation. As a young woman when I was studying art I was selected by Sister Corita Kent to apprentice with her in her studio. It was an eye opening experience for me and set me on my path as a printmaker. I love working in my studio on prints. I also use mixed media to express my artistic views.
Artist Statement:
As a Mexican-American artist growing up in the western state of Wyoming, I was influenced by my cultural heritage as well as the American Indians that worked on my grandfather's ranch. I am convinced art is a powerful way to reach others.
Through our medias, artists can communicate our views of an ever changing world. The viewer can then interpret our pieces from the perspective of their own lives, heritage, and experiences. The years I spent teaching in private and public schools gave me a wonderful opportunity to work with children and young adults, and a real insight into the world through a child's eyes... it influences my work every day.
Exhibitions:
2000-Present (Previous Exhibits not listed)
Pasadena City College- Writing Center, Solo exhibit, June, 2000, Pasadena CA
Folk Tree Gallery "Dia de los Muertos Exhibit," September 2002, Pasadena, CA
Kellogg Gallery, "Ink and Clay 29," Juried Show, 2003, Cal Poly University, Pomona, CA
Gallery Mia Tyson, "Spring Forward Fall Back," National Exhibition juried show, April-May 2003 Wilmington North Carolina
Fairbanks Gallery, "5th Cascade Print Exhibit," May 2011, Oregon State University, Corvallis, OR
Kellogg Gallery, "Ink and Clay 37," Juried Show 2011, Cal Poly University Pomona, CA
Art Slant Los Angeles May 2011-present (artslant.com/la?)
The Pacific Art League Gallery, "Urban Forest," Juried Exhibit, October, 2011, Palo Alto, CA.
Pasadena Sandwich Company Gallery, Artists 4 Amyloidosis, Pasadena, Calif., February, 2012
PICTURE Foundation Gallery, "I Have A Right" Exhibit, Ca. State Univ. Dominguez Hills,Carson CA, Nov. 2011-December 2012
Towns-Burr Gallery, Burbank, Ca. PSA new member's exhibit, March, 2012
Kindred Health Annual Art and Poetry book publication. National juried art competition. First Place National Winner Art and Poetry, Publication 2012
Dia de los Muertos Altar exhibit, Oct. 2012, Covina, Ca.
ArtCan Support the cause, worldwide juried show and charity sale, November 3, 2012, Bill Lowe Gallery, Midtown Atlanta,GA
Art Walk Pasadena, exhibit, 2013
Pasadena Museum of History, MOTA Juried Show, May, 2013
ArtCan Juried Event and Sale: Atlanta, GA. Atlanta Ballet's Michael C. Carlos Dance Centre | 1695 Marietta Boulevard NW, Atlanta, GA 30318 November 9, 2013 (Charity Sale Support the Cause, Picture sold at auction)
The Keystone Gallery, Glendale, CA, November 9, 2013
Los Angeles Municipal Gallery, Group Exhibit April, 2014
Newport Beach Art Festival and Exhibit, Newport Cultural Center Gallery, Newport Beach, CA, May, 2014
Washi Printmaking Invitational Exhibit, Muckenthaler Cultural Center Gallery, Fullerton, CA,
July 10, 2014 thru September 28, 2014.
Articles and Books:
"Little Girl Lost In Japan," The Japan Times, March 30, 2010, Life in Japan, Community, Hotline to Nagatacho
"Grandmother Still Missing Her Little Girl," The Japan Times, August 30, 2011, Life in Japan, Community, Hotline to Nagatacho
Co-authored and illustrated, Teacher Thematic Units Series published by WLK
Resources Inc., Ca, 1998-99. Series included The Rainforest, Oceans, Balloons, Hands-up, Spiders, Outer Space, and The Desert.
Education:
Azusa Pacific University, Azusa, CA, MA, Psychology, Counseling, July 2000
Mount St. Mary's College 1995 Los Angeles, CA 9007
University of California, Los Angeles, 1991-1995
California State University, San Bernardino, BA 1988. Art, Psychology
St Mary College, Leavenworth, KS, Art
Kansas City Art Institute Design
Cleveland Art Institute Printmaking