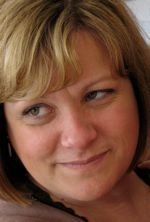 Biographical Information:
I was born in London, England, and raised in a Navy family, moving from Barcelona, Spain, to Maryland, Virginia, California, and Pennsylvania. Many of my childhood summers were spent with family in the Shetland Isles, Scotland.
The Shetland Isles, a few hundred miles north of Scotland, have been called desolate and remote, but they are strikingly beautiful and embody a blend of Norwegian and Scottish language, culture and history. My grandparents house overlooks an ancient castle and the North Sea, very fertile ground for a child's imagination. This is where I remember first being inspired to draw and greatly informs who I am as an artist today.
In 1992 I graduated with a BA in studio art and history from Mary Washington College, in Fredericksburg, Virginia, where I lived until 2004. I took graduate courses in painting and art education from Virginia Commonwealth University, and classes at The Art League School in Alexandria, Virginia. I also worked as Assistant Gallery Director for The Art League Gallery, where I had the good fortune to interact with art and artists forty hours a week for almost two years.
I have participated in many group shows and had a number of solo exhibitions, and have work in private, corporate and museum collections.
In late 2005 my husband Jim and I moved to Southern California, and we currently live in Pasadena with our dog Alex and two cats, Eskimo and Boo.
Artist Statement:
I've lived a large part of my life moving from place to place, not rooted in any one place, so making art has become my "home," in a way. In each piece I create I incorporates bits and pieces from my collective experience - memories, places, people, history, lore, nature, music, patterns, stories and poetry, as well as collage materials from everyday life.
My process is almost entirely organic. I have loose ideas in my head, sometimes sketches done ahead of time, but I always begin with an open mind to let the process guide me from place to place, rather than a methodical approach to get to a finished piece. The end result is a dance between realistic, illustrative and abstract imagery. I love layers, color, and building the surface with paint, collage, transfers, gels, carving, patterns and words.
I work primarily in mixed watermedia because it dries quickly and allows for hours of exploration of the surface at a time. Just as people have marks, lines and rough edges that show history and richness of experience, layers of beauty, sadness, struggle, and joy, I want my work to convey the same depth through exposing each layer of the process. I tend to work in series', exploring one theme or idea for at least five to ten paintings at a time. The end result is something I hope people relate to on a very basic human level.