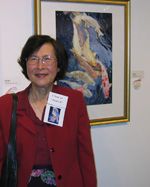 Artist Statement:
Better know as Fong to most of her friends, Yim Fong Lai, first learned to draw portraits of Chinese opera performers when she was growing up in Hong Kong. She began to use different media on her artwork when she took art curriculum at Pasadena City College where she won a Superior Achievement Award and later a scholarship to study at the Art Center College of Design, Pasadena.
In the early 1980's, she took advanced art studies from the China National Academy of Fine Arts in Hangzhou, China. For several years, she studied Chinese brush painting from the world renown late Master Chao Shao-An in Hong Kong. Fong's skill in watercolor painting excelled after her summer studies under the well known late Master Robert E. Wood. She attended art seminars conducted by artists Tom Fong, John Koser, Zollan Szabo and others.
Fong took part in many group and one person art shows. Among her more frequent art exhibit galleries, her paintings have been on display at Brand Library, Brea Library, Burbank Creative Arts Gallery, Butte County Fair, China National Academy of Fine Arts, Descanso Garden, Huntington Library, Hong Kong Arts Center, La Canada Library, Natioanl Orange Show Festival, Pasadena Presbyterian Church, Riverside Arts Museum, San Bernardino County Museum, White Gallery, and various other galleries in California. Through the years, she has won many jury awards and top honors including best of shows. As a signature member of Watercolor West, one of her many recognitions was a North Lights Book Award from Watercolor West for her painting "Splash V".
Having earned her Bachelor of Arts degree from Hong Kong Baptist University, Hong Kong, China, Yim Fong Lai acquired another Bachelor of Arts degree from Concordia University, Montreal, Canada. She holds membership in various art affiliations including Descanso Garden Guild, Pasadena Society of Artists, Verdugo Hills Art Association, Watercolor West and Women Painters West.
The Lai family lives in La Canada Flintridge for forty years. They have four grown sons, all educated in La Canada since elementary school, and three grand-daughters and one grandson. Fong loves to paint in watercolor. She loves to draw flowers, landscapes, children, small animals and Koi!
Group & Solo Exhibitions:
Arboretum, Arcadia, CA
Asian Pacific American Heritage Room, Pasadena City College, Pasadena, CA
Asian Pacific Women's Network Art Exhibit, Bonaventure Hotel, Pasadena, CA
Brand Library Art Gallery, Glendale, CA
Brand XVII, XVIII, XXX and XXXI, Brand Library, Glendale, CA
Butte County Fair, Gridley, CA
Burbank Creative Arts Center Gallery, Burbank, CA
China National Academy of Fine Arts, Quilin, China
Chinese Consolidated Benevolent Association, Pasadena, CA
Conejos Valley Arts Museum, Redland, CA
Descanso Gardens Boddy House, La Canada, CA
Downey Museum of Art, Downey, CA
Gallery in Motion, Glendale, CA
Glendale Federal Savings and Loan, Montrose, CA
Hong Kong Art Center, Hong Kong
Hong Kong Pui Ching Middle School, Hong Kong
Huntington Library "2008 Art Matter", San Marino, CA
La Canada Library, La Canada, CA
National Orange Show, San Bernardino, CA
Pasadena Arts Council, Pasadena, CA
Pasadena City College Art Gallery, Pasadena, CA
Pasadena Library, Pasadena, CA
Pasadena Presbyterian Church, Pasadena, CA
Roberts Gallery, Santa Monica High School, Santa Monica, CA
San Bernardino County Museum, San Bernardino, CA
Stewart Gallery, Palos Verdes Art Center, Palos Verde, CA
South Pasadena Library, South Pasadena, CA
Village Artisans, Eagle Rock, CA
Watercolor West XXXIV and XXXVI, City of Brea Gallery, Brea, CA
Watercolor West XXXVII, City of Riverside, CA
White Gallery, Montrose, CA
Whittier Art Association Gallery, Whittier, CA
Awards & Honors:
May 2007 -National Orange Show Festival - Honorable Mention
Sep 2005 - Watercolor West - Signature Member
Sep 2004 - Watercolor West - North Light Book Award
Oct 2004 - PSA at Fine Artists Factory - Honorable Mention
Feb 2004 - PSA - Honorable Mention
Jan 2004 - PSA - Honorable Mention
Jan 2004 - Brea Gallery - Honorable Mention
Aug 2003 - Butte County Fair - Best of Show, (2) Division Best Awards, (2) 1st Place Awards
Nov 2002 - Pasadena Society of Artists - Honorable Mention
Mar 2002 - Presbyterian Church 27th Annual - 3rd Place Award
Dec 1999 - Pasadena Society of Artists - Watercolor Girvigian Award
Nov 1998 - Pasadena Society of Artists - Second Place Award
Sep 1996 - Art Center College of Design, Pasadena - Scholarship Award
Sep 1990 - The Fine Arts Federation, Burbank - Juror's Selection Award
Jul 1988 - Women Painters West - Honorable Mention
Oct 1987 - Local Five, La Canada - Best of Show
Aug 1987 - Pasadena Society of Artists - Honorable Mention
Jun 1982 - Pasadena City College - Honors for Superior Achievement in Illustration
1982 to 2002 - Verdugo Hills Art Association - (11) 1st Place Awards; (10) 2nd Place Awards; (14) 3rd Place Awards; (7) Honorable Mentions
Affiliations:
Descanso Garden Guild
Watercolor West (Signature member)
Pasadena Society of Artists
Women Painters West
Verdugo Hills Art Association
Collections:
Education:
Bachelor of Arts, Hong Kong Baptist University, Hong Kong
Bachelor of Arts, Concordia University, Montreal, Canada
Art Curriculum, Pasadena City College, Pasadena, CA
Art Selective Program, Art Center College of Design, Pasadena, CA
Advanced art studies, Chinese Brush Painting from Master Chao Shao-An, Hong Kong
Advanced art studies,China National Academy of Fine Arts, Quilin, China
Advanced art studies, Watercolor from Master Robert E. Wood, Lake Arrowhead, CA