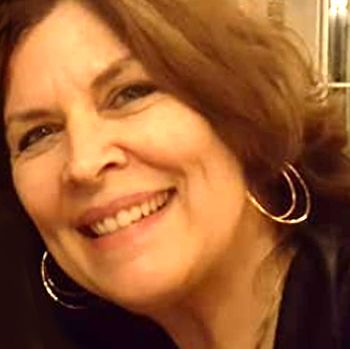 Biographical Information:
My background in art started with endless drawing when a child, which manifested into a career when I grew up. Art Center College of Design provided me with a B.F.A. in Illustration and a solid foundation in art and design. Freelance illustration was the work path I forged for nearly fifteen years, executing sketch comps for the entertainment industry, to video covers, product packaging and advertising. Some of my clients have been: Ghirardelli Chocolates, Budweiser, Random House, Silver Burdett Press, Toyota, Soul Train, Always Natural and African Pride hair care, Mattel, Grammy Awards.
The field of illustration fell through around '00, which is when I went back to school and obtained my M.F.A. at C.S.U.L.A. in Design and Illustration. My thesis paintings were large, figurative works, painted in oil on wood panels, incorporating metal leaf. (I have used this process subsequently, in both abstract and in some portrait work). During this time I became President of the Society of Illustrators, Los Angeles, for two years and served on the Art Center Alumni Council.
After obtaining my M.F.A., I taught Illustration and Drawing for one year each at C.S.U.N. and Otis Art Institute. Immediately following, I obtained full time employment with Interactive Art Studios, executing tight storyboards and comps primarily for t.v. commercials and print ads up until 2017, when the company downsized. That was the time I began painting en plein air while supporting myself with freelance. Within the first year of painting, I received two private commissions.
I have explored not only plein air painting, but abstract work that might include areas of realism. My abstracts allow me to play and explore textures, contrast, and expression. Abstract works are usually more "passionate"; my Realistic Impressionism, more peaceful and lyrical.
Within this past year, I've won four medals: First Place award for a show on the San Fernando Valley with La Galeria Gitana, an Honorable Mention through La Galeria Gitana on a show about "La Femme", a First Place award through California Art League for a show about "renewal", and recently, a Third Place award for a show on "movement", also through California Art League.
I have taken workshops with Bryan Mark Taylor, Carl Bretzke, Dan McCaw, and Steve Huston. I am a member of a number of art organizations, including: CAC, CAL, LAPAPA, and recently, PSA. I look forward to learning and growing as an artist, and meeting others with whom I can share this journey.

Artist's Statement:
My life's career has been in Illustration, which has provided the bedrock beneath the fine art work I do today. I seek to describe the essence of a person, place, or object in a believable manner, yet with an inflection of my feeling about the subject. I paint in Impressionistic Realism, via en plein air or working in the studio from my own reference, memory and field study. I also enjoy painting Abstract works, which provide me freedom of expression and informs my more realistic painting. I usually work in oil on panel, but also work in acrylic and mixed media.

Whether painting something representational, purely abstract, or a combination of styles, I usually wish to express a beauty. It is the interpretation of things that engages me. For instance, when I search a location to paint en plein air, a place has to somehow "strike" me to paint it. I then engage in work that will somehow convey the feeling of beauty which connected me to that place.

Similarly, when I start an abstract painting, I proceed searching for the right "place". I create a field of color, then gestural marks, that begin to inspire me to play upon those marks almost as if in a stream of consciousness. I may add collaged elements, or paint a representational image, (such as a face or flowers), that transition from reality to abstraction. Some work is purely abstract, created in real time, that exists for its own sake. Either way, it is the interpretation of the reality I perceive, whether the outside world or my internal responses of that world, that motivates my work.

Realism and Abstraction are synchronistic. Impressionism is essentially, abstracted realism. Both our internal worlds and external environment exist, simultaneously. I seek to convey the beauty and confluence of these two worlds in small and larger ways to express and examine a moment of being.
B.F.A., cum laude, Art Center College of Design, Illus '84
M.F.A., summa cum laude, C.S.U.L.A., Design/ Illus, '04