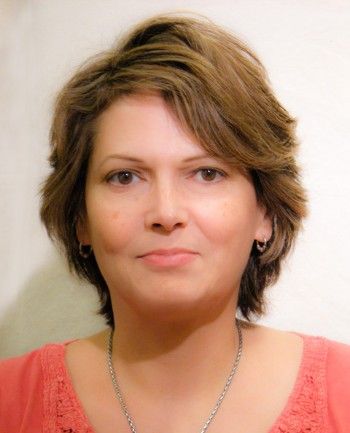 Biographical Information:
I grew up in Pasadena, CA, which has influenced my aesthetic in many ways, both as subject for some of my paintings, and my love of classic architecture. I earned my BFA from the Art Center College of Design in Pasadena, where I graduated with Distinction. My major was illustration, so I am sometimes drawn to a narrative approach in my fine art.
I subsequently worked in creative fields for 15 years, and taught oil painting for 6 years. During that period, there was very little time to devote to art making, but I did create a series of large format paintings, some taking a year to complete. These were an outlet for my particular style, and love of constructing tangible objects. I incorporated discards as a way to recycle and to reinforce certain themes within the art.
After finally leaving the corporate world, I have been able to resume creating art on a more consistent basis. Having the experience of working in a variety of industries for 26 years has renewed my passion for creating my own art, instead of creating content for others. I have explored different mediums and techniques, but lately have been focusing on a series of mixed media works that combine my painting, resin, assemblage, and construction abilities. I'm excited to continue on this path.
Artist Statement:
My work can be described as a cross between painting and assemblage, or paintings that incorporate actual objects and ephemera. I like the tactile quality that it brings to my work, and the history or meaning of these objects compliment
the painted or mixed media surfaces.
I usually build the substrates before incorporating the objects, after which the painting process begins. There is interplay between depth and surface, and sometimes between abstract and representational. I invite the viewer to think about what is hidden beneath surface appearances, and what is illusion. Sometimes this is in a large-scale format to encompass the viewer more fully. History, transformation, and throwaway culture are themes that I gravitate towards, along with social and political injustice. I tend to use some unconventional materials, including refuse, packaging, and resin. This allows me to recycle instead of discarding, and I want to convey the value of doing so.
I grew up surrounded by traditional Japanese woodblock prints and Pre-Columbian sculptures, and this has been a major influence in my aesthetic sensibility, along with artists such as Diebenkorn, Rauschenberg, and Lee Bontecou. In developing my visual language, I am constantly experimenting with different materials and techniques to support the subject matter.
Leah Knecht, 08/2018
Upcoming and Current Exhibitions:
2018 Reimagining America: Ace/121 Gallery, Glendale, CA July 19 – Sept. 8
2018 La Dulcepalooza: The Neutra Museum Institute and Gallery, CA Sept. 1- 16
Juried Exhibitions:
2018 PSA 93rd Annual Juried Exhibition: White's Fine Art, Montrose, CA
2017 All Media 2017: Juried by Kim Abeles, Irvine Fine Art Center, Irvine, CA
2017 No Restraint: Curated by Kristine Shomaker, Ark Gallery, Altadena, CA
Past Exhibitions:
2018 Metamorphosis: Ave. 50 Studio, Highland Park, CA, July 14 - Aug. 5. Curated by Leah Knecht.
2018 Summer Salon: Art Share L.A., Los Angeles, CA 90013
2018 Art Up! Grand Opening: Beyond the Lines Gallery, Los Angeles, CA
2018 Locals Only: McGinty's Gallery at the End of the World, Altadena, CA
2018 PSA 93rd Annual Juried Exhibition: White's Fine Art, Montrose, CA
2018 New Members Exhibition: Towns Burr Gallery, Van Nuys, CA
2018 Open Studios Preview Show: Altadena Library District, Altadena, CA
2017 No Restraint: Curated by Kristine Shomaker, Ark Gallery, Altadena, CA
2017 Trigger: Neutra Museum Institute and Gallery, Los Angeles, CA
2017 The Manikin Project Continues: AlkeBuLan Cultural Center, Pasadena, California
2017 Wishlist 5: Gabba Gallery, 3126 Beverly Blvd., Los Angeles, CA
2017 No Restraint: Juried by Kristine Schomaker, Ark Gallery, Altadena, California
2017 CrateDigger Vol. 2: Gabba Gallery, Los Angeles, CA
2017 All Media 2017: Juried by Kim Abeles, Irvine Fine Art Center, Irvine, CA
2017 Manikin Project: Cielo Gallery, Los Angeles, CA.
2017 La Dulcepalooza: Neutra Museum Institute and Gallery, Los Angeles, CA
2017 Immigrant Art Show: Neutra Museum Institute and Gallery, Los Angeles, CA
2017 New Year, New Art: Neutra Museum Institute and Gallery, Los Angeles, CA
2017 Black History Exhibit: Hastings Branch Library, Pasadena, CA
2016 Open Studios Preview Show: Altadena Library District, Altadena, CA
2016 Open Studios Art Tour: Art Tour Location, Pasadena, CA
2016 Black History Exhibit: Hastings Branch Library, Pasadena, CA
2015 Open Studios Art Tour: Dec. Art Tour Location, Pasadena, CA
2015 Open Studios Art Tour: June Art Tour Location, Pasadena, CA
2014 Open Studios Art Tour: Dec. Art Tour Location, Pasadena, CA
2013 Pasadena ArtWalk: Pasadena, CA
2012 Pasadena ArtWalk: Pasadena, CA
2011 Pasadena ArtWalk: Pasadena, CA
Online Periodicals:
2018 Hayley Munguia, "Free tours of Pasadena and Altadena studios..." Pasadena Star-News, June
2nd, pasadenastarnewsopenstudios
2017 Carolina Miranda, "Datebook: Paintings from Mexico, art of the Cold War, and shows about
politics" L.A. Times Online, Nov. 16th, www.latimes.com/entertainment/arts
2016 Genie Davis, "Cratedigger Vol. 2 at Gabba Gallery – An Homage to the Album Cover" Art and
Cake, August 20, 2017. artandcakela.com
2017 Kat Ward, "Pasadena Artists Place in "ALL MEDIA" Show" Hometown-Pasadena, Sept.
3rd,. hometown-pasadena.com/pasadena-artists
2017 Kat Ward, "The Immigrant Artist Group Show" Hometown-Pasadena, Mar. 8, hometown-
pasadena.com/the-immigrant-artist
2016 Kat Ward, "Leah Knecht" Hometown-Pasadena, May 22, 2016. hometown-
pasadena.com/creative-types/leah-knecht/124899
Awards/Achievements:
1987 Merit Scholarship, Art Center College of Design.
1987 Valley Hunt Club Commemorative Poster Competition – 2nd place
1986 Merit Scholarship, Art Center College of Design.
1985 Merit Scholarship, Art Center College of Design.
Collections:
L.A. Metro Arts, Los Angeles, CA
Margot Dear, Altadena, CA
Alan Ashford, Oakland, CA
James and Chantal Giddens, Altadena, CA
Janelle Paige, Pasadena, CA
Cathie Sandstrom, Pasadena, CA
Davidian Ouyang, Arcadia, CA
Valley Hunt Club, Pasadena, CA
Professional Associations:
Pasadena Society of Artists
Arroyo Arts Collective
Women's Art Circle, Co-Founder