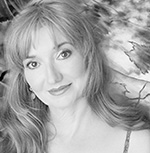 Biographical Information:
A childhood of moving and traveling around the United States has shaped Katherine Kean's vision, as have a long trip to eastern Africa and more recent painting jaunts all over Kean's now native California. Born in West Virginia, moving later to Ohio and New Jersey, but growing up mainly in Massachusetts, she attended Rhode Island School of Design, graduating with a BFA in Film, Video and Animation.
Throughout her career as a visual effects artist working on films such as Willow and Ghost, Kean often hosted art exhibitions in her company's studio space. In 2003, the role of part-time gallerist gave way to full-time painting. She has since achieved a reputation for skilfully using observation, memory, and interpretation to translate her love of nature's kinetic phenomena into paintings that capture the often turbulent emotions within light, weather, and landscapes.
Her work exhibits in museums and galleries across the United States, including the LACMA Art Rental and Sales Gallery and the Brand Library Art Gallery in Los Angeles, and has been acquired by many private and corporate collections. Bloomingdales selected one of her cloudscape paintings to be part of the collection for their new store in Santa Monica, CA. She is included in the Schiffer publication 100 Artists of the West Coast II, has had three paintings earn a place in Paint America's 2011 Paint the Parks Competition Winners' List, and won a Featured Artist Award in Manhattan Arts Healing Arts International's 2014 Celebrate the Healing Power of Art.
Artist Statement:
As a painter, I seek moments of breath-taking transition in nature; a gathering of clouds or changing tides; times when the elements of the landscape combine with the alchemy of imagination to illuminate the world of heightened mood and sensation.
Science has shown that art and beauty have a healing effect on us, as the experience of awe boosts our bodies' immune system. I hope as well, that re-connecting to the idea of Nature may be a step forward in realizing and healing the imbalances and misuses of our relationship with our planet.
As our world population grows more urban, as access to wilderness becomes increasingly rare, the emotional attachment, and concrete, intimate knowledge of Nature that is needed for sustainable interaction is lost. Nature and non-human animals are perceived as commodities, even as their exploitation exacerbates climate change, and normal cycles and processes cause many to feel fear or distress.
My paintings seek to ease the loss, stirring wonder, curiosity, and excitement for the transformative impacts of weather, wildlife, and natural phenomena, while revealing the serene center that can arise in the midst of Nature's turbulence.
Museum Exhibitions
2012 Paint America: Paint the Parks, Coutts Museum of Art, El Dorado, KS
2011 Paint America: Paint the Parks, Jefferson National Expansion Memorial, St. Louis, MO
2004 Art of the Rancho Tujunga Area, Bolton Hall Museum, Tujunga, CA
2003 Etherscapes, Grants Pass Museum of Art, Grants Pass, OR
2000 Timely Expressions, traveling exhibition, Red River Valley Museum, Vernon, TX
Solo and Feature Exhibitions
2012 Murmuration, TAG Gallery, Bergamot Station, Santa Monica, CA
2010 Atmospheric, TAG Gallery, Bergamot Station, Santa Monica, CA
2008 Still Places, TAG Gallery, Santa Monica, CA
2007 Lightfall, TAG Gallery, Santa Monica, CA.
2003 Etherscapes, Grants Pass Museum of Art, Grants Pass, OR
2002 Katherine Kean, Butler Gallery, Northwood University, Cedar Hill, TX
2000 Memories, Dreams, and Visions, Red River Valley Museum, Vernon, TX
1998 New Work, The Gossip Studio, Los Angeles, CA "Collection" Schoff & Baxter, Century City,CA
1994 A Land Apart, Film Roman Gallery, North Hollywood, CA
Selected Group Exhibitions:
2015 National Weather Center Biennial Exhibition, Norman, OK
New Members Exhibition, Towns Burr Gallery, Burbank, CA
Wilderness Minds: Activating Wonder, Modest Fly Art Studio Gallery, Tujunga, CA
ACE Blinn House, Pasadena Society of Artists, Pasadena, CA
Balance Unbalance 2015: Water Imbalance, Arizona State University, Tempe, AZ
Artist's Choice: Pasadena Society of Artists Exhibition, Creative Arts Center, Burbank, CA
2014 Deck the Walls! Segil Fine Art, Monrovia, CA
Celebrate the Healing Power of Art 2014, Manhattan Arts International
Home Sweet Home, Segil Fine Art, Monrovia, CA
Palm Springs Fine Art Fair, Izen Miller Gallery, Palm Springs, CA
10 By 10, I5 Gallery, Brewery Arts Complex, Los Angeles, CA
2013 Palm Springs Fine Art Fair, Izen Miller Gallery, Palm Springs, CA
2012 Mother's Day, Modest Fly Art Studio Gallery, Tujunga, CA
Buy Local, Think International, TAG Gallery, Bergamot Station, Santa Monica, CA
2011 Tell Us a Story, Segil Fine Art, Monrovia, CA
Summertime, TAG Gallery, Bergamot Station, Santa Monica, CA
2010 Best of TAG 2010, TAG Gallery, Bergamot Station, Santa Monica, CA
2009 Works For Everyone, TAG Gallery, Santa Monica, CA
2008 Small Works, TAG Gallery, Santa Monica, CA
Connections, Canoga Park Youth Arts Center Gallery, Canoga Park, CA
2007 The Ladies' Fluff & Fold Society Presents Top Drawer, SCWCA Atrium Gallery, Los Angeles, CA
Brand 35: Thirty-Fifth Annual National Juried Exhibition, Works on Paper: Borders. Brand
Library Gallery, Glendale, CA, juried by Jim Morphesis
2006 Wet Paint, LACMA Art Museum Council, Roxbury Park, Beverly Hills, CA
California Open Exhibition New Works, juried by Laddie John Dill, TAG Gallery, Los Angeles, CA,
Los Angeles County Museum of Art, Art Rental and Sales Gallery, Los Angeles, CA
2005 Venice Art Forum, Group Show SPARC Gallery, Venice, CA
Topanga Canyon Gallery, 2005 Juried Open, Topanga, CA
2004 Autumn Show 2003, Venice Art Forum, SPARC Gallery, Venice, CA
2003 Back On Broadway, Santa Monica, CA
SPARC Gallery, "Art and Spirit Group Show", Venice, CA
2002 Timely Expressions, traveling exhibition, Indiana State University Gallery, Terre Haute, IN
2001 Hodge Podge II, Highways, Santa Monica, CA
Myth and Matter, Gallery West, Los Angeles, CA
200 Artists for Y2K, Boritzer, Gray, Hamano, Bergamot Station, Santa Monica, CA
2000 Synergy, 4 Star Gallery, Indianapolis, IN
1999 Luminous Secrets, Encino, CA
Innerworks, Available Light Ltd., Burbank, CA The Rose Café, Venice CA.
1997 Summer Celebration, Mitchell & Matlin Gallery, Venice, CA
1996 The Art of Brunch, Los Angeles Airport Hilton, Los Angeles, CA
1994 Soulscapes, Gallery IV, Los Angeles, CA Mad River Post Fall '93 Group Show, Santa Monica, CA
1993 Exhibit A, Blaisdell Atelier, Topanga, CA
A Shift of Season, Blaisdell Atelier, Topanga, CA
Awards & Honors:
Manhattan Arts International, Featured Artist Award, Celebrate the Healing Power of Art
Paint America's 2011 Paint the Parks Top 100
Paint America's 2011 Paint the Parks Top 50 Mini
Purchase Award Bloomingdale's Collection at Santa Monica Place, Santa Monica, CA
Art Slant Showcase Awards 2010, Showcase 3, Showcase 5
Art Slant Showcase Award, May 2009
Affiliations:
PSA Pasadena Society of Artists
ACAG Angeles Crest Artist Guild
SCWCA Southern California Women's Caucus for Art
SCWCA Eco-Art
Collections:
Bloomingdale's Permanent Collection, Santa Monica Place, Santa Monica, CA
Massage Envy, Rolling Hills Estates, CA
Schoff & Baxter, Century City, CA
Film Roman, North Hollywood, CA.
JJ&A, Glendale, CA.
Numerous private collections
Education
B.F.A. Rhode Island School of Design