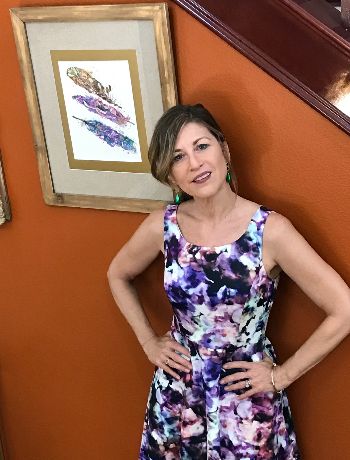 Biographical Information:
Julianna is an experimental, self-taught artist.
She dabbles in anything and everything with color and texture; paper, wax, fabric, inks, acrylics, collage, watercolor, and even broken metal. She is inspired by Gustav Klimt's decorative, eclectic, gold, masterpieces; Georgia O' Keefe's enlarged, simplified flowers; Frida Kahlo's folk-inspired, magical realism, and Van Gogh's bold expressed emotion. She is constantly learning new techniques, and is inspired by her beautiful granddaughter who she spends hours in the garden with, chatting, digging in the earth, while making up imaginary stories.
Julianna is a certified Yoga Instructor, an avid reader, world traveler, writer, gourmet cook, and singer.
Her real passion is art, and creating beautiful things to look at and admire, and make people think.
Artist Statement:
Julianna captures the ethereal, fragile and majestic images of nature, the feminine form, and the universe. Her surrealistic and whimsical depictions of animals, nature and the illumination of the universe has generated a large fan base, and in her gallery and art showings
She has won several awards for her enchanting visions of feathers, seahorses, and dragonflies enveloped in saturated colors, and her textured, multicolored visions of the ecosystems of the forest and living organisms.
She is inspired by nature and the mystical and powerful part that exists in all things of the earth and beyond.
Solo Exhibitions:
Earth, Goddess the Divine, The City of Santa Clarita
January, 2020 - The Main in Newhall, Newhall, CA
Group Exhibitions:
May, 2019 - Art in the Park, Ojai Art Center, Ojai, CA
March, 2019 - Things With Wings, Buenaventura Gallery at The Bell Arts Factory, Ventura, CA
May, 2018 - Spring Art Festival, Santa Clarita Artist Association, La Chene French Restaurant and Gardens, Agua Dulce, CA
July, 2018 - Ventura County Arts Council, Metamorphosis Exhibition, Ventura, CA
July, 2018 - Summer Breeze, Santa Clarita Artist Association, Santa Clarita, CA
Awards and Honors:
2016 - First Place Winner-Mixed-Media, Santa Clarita Artist Association, Santa Clarita Art Classic, October,
October, 2017 - Second Place Winner-Mixed-Media, Santa Clarita Artist Association, Santa Clarita Art Classic,
September, 2018 - Second Place Winner-Mixed-Media, Santa Clarita Artist AssociationSanta Clarita Art Classic, 2018,
July, 2018 - Third Place Winner, Metamorphosis Exhibition, Ventura Arts Council
Affilations:
Santa Clarita Artist Association,
Ventura Art Council,
Buenaventura Artist Association
Pasadena Society of Artists
Collections:
Earth, Goddess
Santa Clarita, Ca