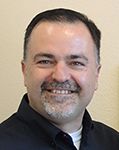 Biographical Information:
Jose L. De Juan studied at the Madrid Art Academy in his native Spain. Jose is a devoted plein-air artist and finds constant inspiration in the city and its surroundings, from freeways and dilapidated structures to the canyons and marinas. His style always combines an academic approach with a loose stroke. He is an artist member of the California Art Club and has exhibited widely around Pasadena and the San Gabriel Valley .He resides in Pasadena with life-partner Armando. His website is www.josedejuan.com
Artist Statement:
I am a representational oil and watercolor artist. I strive to capture on canvas the beauty I am surprised by, every day. I sometimes recognize it in freeways, laundromats, liquor stores, people and even poppy fields. I love to paint outdoors. I approach my plein air painting by trying to let the materials speak for themselves and using the natural world as my guide.
The sharp contrasts and layers of Los Angeles are often what triggers my work. Its overlapping cultural and natural textures, simultaneous display of wealth, neglect, and struggle, excess, you name it makes for a very interesting subject. Under the bright light of California, any corner of the city can be worth taking a second look.
My ultimate hope is to share the moments of beauty I find and prompt the viewer to take a second look at the world.
Group Exhibitions:
San Luis Obispo Plein Air 2009 Juried show. San Luis Obispo Art Center.
North Tahoe Plein Air 2008 2009 Juried show. Northstar, North Tahoe.
Nov 2008 Juried entry into "Small Works NorthAmerica" from the Greenwich Workshop Gallery in Fairfield, CT
Nov 2008 Juried entry into "Rialto Visions" at SoPas Gallery in South Pasadena, CA
Oct 2008. Show of 10 Plein Air paintings. Jose Vera Fine Art & Antiques. Eagle Rock, CA
Oct 2008. 5 Artists show at Artscape Gallery, Pasadena, CA
Sept 2008. Group show with Mt. Washington painters. SouthWest Museum. Los Angeles, CA
May 2008. Group show at Winestyles wine boutique. South Pasadena, CA
Awards & Honors:
First Place at the Pasadena Artwalk 2009.
Nov 2008 Third Place Award in San Gabiel Plein Air 2008.San Gabriel Fine Arts Association.(Juror: Jason Situ). San Gabriel, California.
Affiliations:
California Art Club
San Gabriel Fine Art Association
Pasadena Society of Artists
National Watercolor Society
Collections:
Joe and Julie Pachoreck M.D.
Barbara and George Malone
Education:
Attended workshops and classes at Art Center (Pasadena) Associates in Arts (Van Nuys) and the Scottsdale Art School (AZ). Teachers include Jennifer Mc Christian, Peter Andrews, Sheri McGraw and Clayton Beck III.