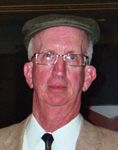 Biographical Information:
As a native of Southern California, I received my formal education in local schools. After graduating from South Hills High School, I attended La Verne College, where I earned a B. A. in European History and Political Science. In 1975 I received a M. S. in Library Science from the University of Southern California. Since 1978 I have worked as a Research Editor at Salem Press, located in Pasadena. In addition, I have worked as a part-time Reference Librarian at Glendale Community College, Covina Public Library and Los Angeles Public Library. I also teach a Library Science class at Los Angeles Valley College.
Since the early 1970's my poetry has been published in various literary journals and anthologies. In 2008 I won a poetry chapbook contest with my collection Broken Glass and Dented Chrome. In addition, I have written hundreds of scholarly articles and book reviews for various reference publications. My book Hispanic Americans Struggle for Equality (Rourke) was published in1992 and my book Sports (Rourke) was published in 1995.
Since 1990 I have been actively involved in the creation of art. I was elected as a member of the Pasadena Society of Artists in 1991. Since then I have expanded my creative outlets to include oil and acrylic painting, mixed media works and digital photography. Over the years I have had a number of solo shows, been included in many group shows and have won several awards. In addition, I had my painting "Tuna Ghost" used as the cover art by recording artist McCrea Adams for his 2003 CD Damned If I Know. In 2004 I had a couple of my paintings used as background for the Opera of the Foothills production of Bat Out of Hell held at the South Pasadena Community Room.
Artist Statement:
As a self-taught artist, I approach every painting, mixed media work, and digital photograph with a sense of discovery. Through vivid abstract images and vibrant color combinations, I hope to shed light on how my subconscious mind translates the visible world around me.
Solo Exhibitions:
2009 Coffee Gallery, Altadena, CA
2005 Coffee Gallery, Altadena, CA
2002 Coffee Gallery, Altadena, CA
1995 Pasadena Arts Council, Pasadena, CA
1992 Altadena Public Library, Altadena, CA
1992 Los Angeles County Library, La Canada, CA
Group Exhibitions:
2009 Pasadena ArtWalk, Pasadena, CA
2009 Juried Exhibition, Pasadena Society of Artists (PSA) the Art of Giving and Receiving, AIDS Service Center, Pasadena, CA
2008 Claremont Village Venture, Claremont, CA
2008 Pasadena ArtWalk, Pasadena, CA
2007 Pasadena ArtWalk, Pasadena, CA
2007 Juried Exhibition, PSA Fall Exhibition, Whites Art, Framing, & Restoration, Montrose, CA
2007 Juried Exhibition, PSA Annual Show, VIVA Gallery, Sherman Oaks, CA
2006 Pasadena ArtWalk, Pasadena, CA
2006 Juried Exhibition, PSA Annual Show, VIVA Gallery, Sherman Oaks, CA
2005 Juried Exhibition, PSA After the Rains Exhibition, Fine Artists Factory Gallery, Pasadena, CA
2004 Juried Exhibition, PSA Paints the Playhouse, Pasadena Playhouse Gallery, Pasadena, CA
2004 Juried Exhibition, PSA Annual Show, Fine Artists Factory Gallery, Pasadena, CA
2003 Juried Exhibition, PSA Inventive Mixed Medias, Fine Artists Factory Gallery, Pasadena, CA
2002 Juried Exhibition, PSA Diamond Jubilee Exhibition, Pasadena Historical Museum, Pasadena, CA
2001 Juried Exhibition, PSA Annual Show, Mountain View Memorial Gallery, Altadena, CA
1995 Juried Exhibition, PSA Annual Show, Mountain View Memorial Gallery, Altadena, CA
Awards & Honors:
2007 Honorable Mention for my digital photograph "Behind Door Number 91," Juried Exhibition, PSA Fall Exhibition, Whites Art, Framing, & Restoration, Montrose, CA
2005 Honorable Mention for my oil painting "Time's Slingshot Serenade," Juried Exhibition, PSA After the Rains Exhibition, Fine Artists Factory Gallery, Pasadena, CA
2004 Honorable Mention for my acrylic painting "An Actor on Angst," Juried Exhibition, PSA Paints the Playhouse, Pasadena Playhouse Gallery, Pasadena, CA
2004 Over the Top Award for my oil painting "Vaguely Existential on a Flapjack Day," Juried Exhibition, PSA Annual Show, Fine Artists Factory Gallery, Pasadena, CA
2003 Award of Merit for my mixed media work "There Goes the Neighborhood," Juried Exhibition, PSA Inventive Mixed Medias, Fine Artists Factory Gallery, Pasadena, CA
2001 Millie Estey-Waterbased Media Award for my acrylic painting "Cutting Through," Juried Exhibition, PSA Annual Show, Mountain View Memorial Gallery, Altadena, CA
1995 Juror's Award for my acrylic painting "The Sun over Sweden," Juried Exhibition, PSA Annual Show, Mountain View Memorial Gallery, Altadena, CA
Affiliations:
1991-present Member of Pasadena Society of Artists (PSA)
Education:
1975 M. S. in Library Science, University of Southern California
1972 B. A. in European History and Political Science, La Verne College