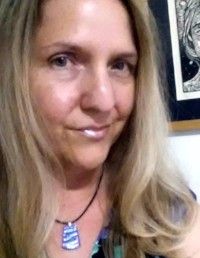 Biographical Information:
Southern California born and bred, Laura Henneforth is an artist who focuses on the female form and images of the Buddha. Found paper and ink marry into abstract environments, beckoning the viewer to search within and beyond. While collage is the primary vehicle to Henneforth's technique, colored pencil and watercolor also translate the whimsy of her visions.
A 2005 graduate of Cal Poly Pomona, Henneforth has exhibited in several group shows within the San Gabriel Valley as well as a solo exhibition of her work at the Gilb Museum of Arcadia Heritage in 2016.
Artist Statement:
Southern California is a living collage, a blessed diversity that fuels any creative drive. The juxtaposition that is Los Angeles introduces us to other communities and ideas. I believe this is why the medium of collage has entranced me—it is a declaration of peaceful coexistence on the same picture plane.
Like no other practice, mixed media collage has steered my artistic voice and drawn me down a path I am compelled to follow. Maps and text play an integral part in my collages which I often translate into the female form—the ultimate vessel of life and creativity. Images of the Buddha also appear in my work. I am grateful for the sentient guidance, especially during the journey of creation. All my collages begin as a simple sketch, growing complex and detailed as I sort through found paper to construct the vision. The gathering of unrelated items to create a symbiotic environment is a delight and when I can carve my own visions out of found objects I experience true authenticity. If the final result launches the viewer into deep contemplation then the work is a success and I am happy.
Solo Exhibitions:
Gilb Museum of Arcadia Heritage 2016
Group Exhibitions:
2017--Text, Textiles, Texture' February 2017—SOPA Gallery
Ninth Biennial Ontario Open Art Exhibition--Ontario Museum of History and Art  April 2017
'Sharps and Flats' Eclectic Music Festival May 2017
2016—'Singular, Plural, Multiple—The Art of Laura Henneforth'
2015— Zephyr Coffee House Gallery, Pasadena, CA
2011— Modest Fly Holiday Show
2010—2015  SOPA GALLERY group shows
2005— Senior Show (honorable mention)
'Erosions'
2004– 2D/3D Show Cal Poly Pomona (honorable mention)
'Have You Seen Me?'
2002– 2D/3D Show Cal Poly Pomona
'Untitled' Work
Awards:
Honorable Mentions: 2004 2D/3D show- Cal Poly Pomona
Senior Show 2005: Honorable Mention
Affiliations:
SOPA Studios/ SOPA Artists--SOPA Studios Art Collective
Gilb Museum of Arcadia Heritage volunteer in collections and exhibits
Pasadena Society of Artists
Education:
Cal Poly Pomona, Pomona, CA 2002-2005—BA in Fine Art