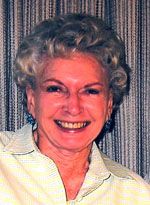 Biographical Information:
I was born and raised in Los Angeles, California. As a child I was constantly drawing and got in trouble at middle-school because I would draw in my notebook instead of paying attention to the class. However, my art teacher at the same school liked my drawings and gave me a solo exhibit in her classroom, of the art that I had been doing at home. During high school, I decided I wanted to become a commercial artist and after graduation attended what is now L.A. TradeTech, completing the commercial art course. My first full time job was as a retail illustrator for Thrifty Drug Stores. While working full time, I attended a few evening classes at Art Center.
After retiring from 55 years of doing commercial art I found time to go back to the "fun stuff" and enrolled in a class for sketching and drawing, sponsored by Glendale College. During the second summer, my teacher held a short five week class of introduction to watercolor. This was the start of my love affair with watercolor and I then began taking any and all watercolor painting classes I could find (there weren't many) to further my skills and interest in painting. I didn't find a beginning watercolor class for a couple of years but plugged away on my own, taking classes that were over my head. I took classes at Barnsdall Art Center, Glendale College, and Creative Art Center in Burbank. I joined art organizations and discovered workshops and meetings with demos by talented artists. Finally in 2004, I entered some paintings in a local art show and won an award which fired up my enthusiasm even more. I still enjoy taking two or three classes a week plus workshops, where I continue to learn and hopefully improve my skills. I have shown my art in numerous shows and have won several awards. My first solo exhibit was in 2007.
Artist Statement:
A number of people have told me that many of my paintings give them a feeling of peace and serenity. I guess that might be because while I am painting, I feel completely content and totally at peace with the world and everything around me. I love the peace and quiet of the countryside away from the city with it's noise and over-population, so enjoy painting landscapes. I wish I could travel more frequently as I especially love New Mexico, northern Arizona and our many beautiful places in California. Many of my paintings are from my own snapshots. One of my former teachers used to ask me what I felt when I was at the place where I took the photo. Nearly always it was a feeling of peace and awe at the beauty of nature, and the wish that I could somehow express that feeling in my painting.
Group & Solo Exhibitions:
2009: PSA at A.C.E. at Citibank/Silverlake Gallery (Dec-Jan 2010)
2009: Burbank Art Association Honors Show, Creative Art Center, Burbank
2009: Burbank Art Association Spring Show, Town Center Mall, Burbank
2009: PSA juried show at ASC, Pasadena
2009: PSA juried show at VIVA, Sherman Oaks
209: Fine Art Federation of Burbank at Cretive Art Center, Burbank
2009: Juried; Women Painters West at VIVA, Sherman Oaks
2009: Juried; Valley Watercolor Society at VIVA Gallery
2009: Burbank Federation of Fine Artis at CAC Gallery
2008: Juried; Valley Watercolor Society at VIVA Gallery, Sherman Oaks
2008: Burbank Federation of Fine Arts at Burbank's Creative Art Center
2008: Burbank Art Association Spring Show, Burbank
2008: VIVA members show, Sherman Oaks
2008: Women Painters West show, at Creative Art Center, Burbank
2008: Juried; PSA show at White's Gallery, Montrose
2008: Burbank Art Association Honors Show at CAC, Burbank
2007: Burbank Federation of Fine Art at CAC, Burbank
2007: Solo show at Brenart Gallery/Cafe, Pasadena
2007: Juried; Valley Watercolor Society at VIVA, Sherman Oaks
2007: Juried; Women Painters West at VIVA, Sherman Oaks
2007: Juried; PSA at VIVA, Sherman Oaks
2007: Burbank Art Association, Spring Show, Burbank
2007: Charles Borman group, invitational show at CAC, Burbank
2007: Juried; VIVA All Member, Sherman Oaks
2007: Burbank Art Association, Honors division at CAC, Burbank
2007: Juried; Women Painters West at Finegood Gallery, West Hills
2006: Burbank Fine Arts Federation show at CAC, Burbank
2006: Burbank Art Association, Spring show Burbank
2006: PSA Juried; at VIVA, Sherman Oaks
2006: Juried; Women Painters West at VIVA, Sherman Oaks
2006: Juried; PSA at White's Gallery, Montrose
2006: BAA Honors show, Burbank
2006: PSA new members show at White's Gallery, Montrose
2004-06:: A regular member of Charles Borman's "stable" of artists showing at his "Village Square" Gallery , Montrose
showing several times each year.
Burbank Art Association shows, twice a year
Burbank Fine Arts Federation, annual show Burbank
Score, Juried; at VIVA, Sherman Oaks
Affiliations:
California Art Club
Pasadena Society of Artists
Burbank Art Association
Fine Arts Federation of Burbank
Valley Watercolor Society
Brand Library Associates
Women Painters West