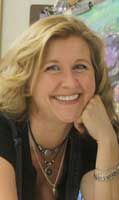 Bio
Gina M. hails from a funky and creative family. In the 70's her parents owned a puppet theater in California where childhood weekends were spent developing shows, building puppets, and hosting birthday parties.
Toys and dolls traditionally evoke innocence, nostalgia, and warm childhood memories. Yet, when neglected or discarded, they become creepy, dark, and disturbing. Her fascination with their anthropomorphic tendencies stems from her childhood raised by puppets and their puppeteers.
These unique life-events mix with social commentary to inform her art, recording the significance of memory and mortality, self-reflecting on the emotion of the aging process and the image-altering effects of gravity.
Each piece in the series 'Lost Not Forgotten', by Gina M., possesses a surface innocence and non-threatening nature, to draw the viewer in, whereby a deeper meaning or message emerges. The collection consists of hand-built high-fired ceramic teddy bears, toys, and puppets in different stages of decomposition. Iconic images from childhood become lost objects, misplaced opportunities, and distant memories.
Artist Statement
I really enjoy working with private clients to create something they envision. Whether it's a sculpture, painting or a custom installation I will produce their request while also infusing my own style and flair into it.
However, with my personal art, I need to express and record the feelings or emotions I recall vividly. I want to both exorcize them like demons and save them to look at in the future.
I am a multidisciplinary artist and my work takes many forms. The nature of the subject or the emotional end result dictates the materials, techniques and themes I use. They vary from one piece to another. It all starts with a nagging inspiration. For instance, I sculpted figures to physically expel my sorrow over a lost loved one. I painted a portrait and found peace in the past. I only know this when I am finished, looking back.
Some works express the sentimental and nostalgic, as when painting, sculpting or photographing subjects I find romantic, ironic, humorous and witty. Some works explore color, mood and relationships to space. These pieces become more obscure, most often isolated or close up, and are executed simply, relying on combinations of layered color and light, illustrating an idea or an intuitive expression.
And other pieces develop because they are fun and pretty and call to be made manifest.
For me making art is always about problem solving. I take a photo, an emotion, or idea and find the significance in it. That dictates the media and style I use. I feel the only reason to alter an image or accept the challenge of creating art is to present something extra, evoke a feeling, make a statement, or define a moment.
Selected Exhibitions
2011 to 2015 - VAMS scholarship: 5 shows, Pasadena City College, Pasadena, CA
2012 Pasadena Museum of California Art, juried group show, Pasadena, CA
2012 Pasadena Society of Artist 87th annual juried show, Burbank CA
2011 VAMS Scholarship award show, Pasadena City College, Pasadena CA
2011 Pasadena Museum of California Art, juried group show, Pasadena, CA
2010 Pasadena City College Gallery Summer Series, Group Show
2010 Work featured in touring show for Light Bringer Project, ArcLight Theater
2009-12 4 Murals for Chalk Festival Light Bringer Project, Passeo Colorado, CA
Awards
2015 The Jean Ward Foundation for excellence in ceramics Scholarship
2014 The Jean Ward Foundation for excellence in ceramics Scholarship
2013 William Miller Scholarship Award
2012 Collage Artists of America Scholarship Award
2011 Julia Cannon Vocational Scholarship Award
Selected Commissioned Works
The Millers, "Curved Wall with Metallic Circles" oil on wood 48" x 72"
The Millers,"Dancers" Acrylic and plexi, lacquer framed 34x 72
The Dray Collection, Paper fan fold sculpture, wall mounted 72" by 108"
Experience
1986 – now Fine Artist, muralist, color consultant and residential artist - Pasadena area.
Education
1986-2011 Pasadena City College Art and Photo classes
1989 Kent Twitchel Colorado One, Mural Project, Pasadena CA
1984 Associate Arts degree from FIDM
Groups & Organizations
Groups and Organizations
Pasadena Society of Artists, Pasadena, CA
Los Angeles Arts Association LAAA
Gallery 825
aka Gina Fernandez