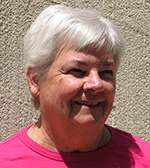 Biographical Information:
Oscar Van Young and Robert Uecker were instrumental in reviving my interest in art. One was an oil painter in the 60's and Robert Uecker was a very interesting watercolor painter, I began attending his classes in the early 80's. He never hesitated when he was ready to paint he painted. Every stroke counted.
Painting at Manzanar National Monument with Henry Fukuhara during his annual workshop for many years, and two trips to Mt. Carmel in Utah to paint with Milford Zornes, have certainly made a lasting impression. I have also had the great experience of painting with at least 50 others on a trip to Canyon de Chelly. These trips allow artists to learn from each other and enjoy the camaraderie of people with the same interests, a very inspiring and enriching experience.
In addition to what I have learned from the many painting trips, my art education consists of classes and workshops with many fine painters, mostly watercolor painters although, I am expanding into other areas, I do not think I will ever abandon transparent watercolor. I was fortunate to be chosen as one of the "Ones to Watch" in the December 2008 issue of Watercolor Artist Magazine. I have, served as Exhibition Chair for four years 2005 – 2008 for Watercolor West. I have just competed my second term as President of Watercolor West, An International Transparent Watercolor Society.
I have won numerous awards for my work and have had my work accepted in the 2002, 2006, 2007, 2008 and 2009 Watercolor West Juried Exhibitions, earning Signature Membership. I was awarded the Ben and Mary Rabe award in the 2009 exhibition. 2005 and 2008 National Watercolor Society's Members Show, 2006 , 2008, 2009 San Diego Watercolor Society International Show earning Signature Status. My work was also selected into the 2007 National Watercolor Society Exhibition, receiving the Henry Fukuhara Award and selected for the Travel Show. I was invited to participate in the 2008 Taiwan International Watercolors Painting Exhibition. 2009 accepted into the California Watercolor Assoc. 40th National Exhibition, and the 2009 and 2011 Transparent Watercolor Society of America Exhibition. In 2010, my work was accepted into the 143th American Watercolor Society Exhibition in New York, an experience to remember. In 2012 my painting was accepted into the 3rd Annual American Signature Exhibit in Fallbrook, CA. The show included the travel shows of both National Watercolor Society and the American Watercolor Society.
Artist Statement:
Art has been a part of my life since I was a child. As an adult I have become more active in making art a bigger part of my world. My preference is to paint with others in a group setting because I draw on their energy and they motivate me to be more creative. I like to sketch the subject and then turn away to begin my work perhaps moving things and adjusting the color not always sticking to the local color. In most cases I will complete the work in the studio. I also use reference photos as a starting point, making sketches, modifying, eliminating and recomposing the information.
I am not a realistic painter, I think I would be considered more impressionistic, and many times, I find abstract fits the subject. I do not feel that I fall into any one category. What it amounts to is the style is dictated by the subject matter. Most of my work is transparent watercolor, but I also work in mixed media. I find any water media satisfying, there are times it does all of the work and that is always a pleasant surprise. Then you have to just let it talk to you and guide you to the end result. Not every attempt is a success but each one is a growing experience.
Producing a successful piece of art is a challenge but one worth the effort even if you are the only one it satisfies. It is the journey that is important, how it makes you feel and the path you choose to get there.
Affiliations:
Women Painters West
Pasadena Society of Artists
San Gabriel Fine Arts Association
Mid-Valley Arts League
Watercolor West
National Watercolor Society
Transparent Watercolor Society of America,
American Watercolor Society