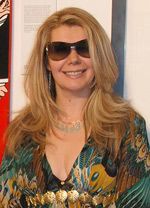 Biographical Information:
Lore Eckelberry is an international contemporary artist located in Los Angeles, California. Her paintings are featured in galleries and private collections throughout the United States, Japan, England, Germany, Spain, Korea, Hawaii, Canada, Mexico, as well as a contemporary museum in Japan.
Her love of travel and her curiosity about other cultures led her to visit Canada, Japan, China, Korea, France, Holland, and Italy (where she lived for some time). Lore is a self-taught artist and her style went from early 20th century inspiration into totally contemporary work. Lore's spontaneous, explosive paintings exude the artist's love of expression of strong emotions. Lore's emphasis on color creates a strong and completely modern and innovative way of expressing art.
Artist Statement:
I strongly believe that the soul of a man can be reflected and recorded in art.
I like to convey an emotion that comes directly from the subject I am painting.
It is not my intention to create a mirror image of the person nor their sex, nor likeness.
What I want is to give a sense of feeling and emotion throughout the color and form of my art.
I love to travel! I am very interested in other countries and cultures. People, colors, traditions, religion, and landscape fascinate me. It is the sensation of the emotion that I perceive in a culture or the people around me that I wish to communicate in my paintings.
I love people and animals. It is the love and admiration that I have for them that inspires me to keep on painting.
Exhibitions:
2009 Valley Artist Guild Juried show Winner of Best in show Sherman Oaks, CA
2009 West 4th/Jane Gallery Juried show Santa Monica, CA
2009 Improvizations 4 LA Experimental VIVA Gallery Juried show Sherman Oaks, CA
2009 All Group Show VIVA Gallery Juried show Sherman Oaks, CA
2009 CraftStory Gallery Busan, Korea
2009 Ansei Gallery Fukuoka, Japan
2009 LA ARTCORE Brewery Juried show Downtown LA, CA
2009 CA Gallery Munakata Japan Munakata, Japan
2009 Pasadena Society of Artists VIVA Gallery Juried show Sherman Oaks, CA
2009 Valley Artists Guild VIVA Gallery Juried show Sherman Oaks, CA
2009 Women Painters West Juried show Marci Baker Award winner Sherman Oaks, CA
2009 VIVA Salon 2009 Juried show (8 juried shows in 2009) Sherman Oaks, CA
2009 Human Rights Auction Juried show Downtown LA, CA
2009 PSA Whites Gallery Juried show Montrose, CA
2008 Pasadena Society of Artists Juried show Sherman Oaks, CA
2008 Collage Artist of America Juried show Sherman Oaks, CA
2008 "Score VII" Viva Gallery Juried show Sherman Oaks, CA
2008 Contemporary Asian Museum Juried show Fukuoka Japan
2008 Gallery Tokunaga Juried show Japan
2008 60th Anniversary VAG Juried show Sherman Oaks, CA
2008 Women Painters West Creative Arts Center Gallery Burbank, CA
2008 All Members VIVA Gallery Juried show Sherman Oaks, CA
2008 City Art Gallery COCF Juried show Van Nuys, CA
2008 LA Artcore Brewery Juried show Downtown LA, CA
2008 Gold Medal Exhibition VAG Juried show Sherman Oaks, CA
2008 Human Rights Auction Juried show Beverly Hills, CA
2008 James Gray Gallery Solo show Bergamot Station, CA
2008 Viva Salon 2008 Juried show (9 juried shows in 2008) Sherman Oaks, CA
2007 Artists for Human Rights, James Gray Gallery Juried show Bergamot Station, CA
2007 "Score VI" Viva Gallery Juried show Sherman Oaks, CA
2007 Los Angeles Municipal Gallery Los Angeles, CA
2007 Chait Gallery Beverly Hills, CA
2006 Infusion Gallery Solo Show Los Angeles, CA
2002 Hozy's Solo Show Ventura, CA
2001 Belly up Solo Show San Diego, CA
Press:
2009 Southwest Art Magazine Collector's Edition
2008 The Arts Magazine in Japan
2008 The Latest Magazine (cover)
2008 Southwest Art Magazine Collector's Edition
2008 Jerry's Artarama catalog
2007 Hawaiian Style Magazine
2006 The Latest Magazine
2002 Ventura County Star (cover)
Affiliations:
Women Painters West
Pasadena Society of Artists
Valley Artist Guild
LA Experimental Artists
Collage Artist of America
VIVA Salon
South of California Women's Caucus of Art
Board member of LAArtcore
Artists for Human Rights