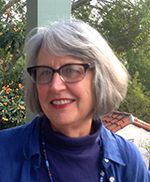 Biographical Information:
Marion Dies has had a lifelong interest in art, having a grandmother who was an accomplished artist, though not well known. In elementary school, her parents let her enroll in oil painting classes and she added many other media as she developed her realistic style, including acrylics, pastels, and printmaking.
She graduated with a Bachelor of Fine Arts degree from the University of Texas in Austin. After graduation, she moved to Los Angeles and began working in the entertainment industry as a Scenic Artist.
With an extensive fine arts background, she has contributed her talent to the media of TV, movies, theater, theme parks, restaurant and retail store interiors, as well as cruise ships, and private homes. Marion has produced works for many TV and movie studios, Warner Bros, Disney, and Universal Studios, Los Angeles Theater, LA Opera productions, as well as murals and paintings at a number of private homes and restaurants. She has completed more than 200 murals for the Cheesecake Factory restaurants over the last 10 years.
In addition to being a Scenic Artist with the Art Directors Guild, she is also a member of the Pasadena Society of Fine Artists, Los Angeles Printmaking Society, and the Silver Lake Art Collective.
She lives in the Silver Lake area of Los Angeles with her artist husband and more of their art can be seen at their website, www.lushscenery.com.
Artist Statement:
I have always had interest in making art, beginning at a very young age. I started taking painting classes in elementary school, and from that point, I never thought about going in a different direction. I majored in art at college and began working in design and commercial art. I then fell into the Scenic Artist profession in the entertainment industry where I learned more about color, perspective, and painting on a very large scale.
I focus on color interactions in my paintings, trying to record and enhance what I'm seeing. The subjects of my art are frequently still lifes or landscapes, - or lately, a combination of that; landscape still lifes - observation of plants in my garden, where I also like to spend time growing textures and colors.
Affiliations:
Pasadena Society of Artists
Silverlake Art Collective
Los Angeles Printmaking Society
Theatre Of Hearts/Youth First