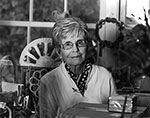 Biographical Information:
Pat Cox was born in Pasadena, California. She holds degrees of Bachelor of Arts and Master of Arts from Mills College, Oakland, California. Her graduate year she was awarded a Resident Trustee Fellowship and a Traveling Fellowship in Art.
Originally, a watercolor painter, she moved from painting to collage, to mixed media, to assemblage. Influences and inspirations include Joseph Cornell, Robert Rauschenberg and Giorgio Morandi. In 1946 she married a Naval Aviator, traveled, and raised three sons. In between she taught painting classes, served as juror for the National Watercolor Society and other art organizations. She joined the Pasadena Society of Artists in 1965. In 1975 she was a Judge for the Pasadena Tournament
of Roses. She served on the Boards of the Los Angeles Art Association, the Palos
Verdes Art Center and the National Watercolor Society.
Her work has been included in exhibitions at the Guggenheim Foundation, Carnegie Hall, New York the LACMA Art Rental Gallery and the Los Angeles International Contemporary Art Fair. She exhibits her works nationally and is represented in museum, private and corporate collections.
Artist Statement:
The putting together of ordinary things in such a manner that they resonate far beyond what might be pre-envisioned lies at the heart of my work. The materials themselves: found objects, odds and ends, society's discards, determine not only the structure, but often the composition.
I am drawn to second hand materials because of their transformative and expressive possibilities. For me these abandoned objects have beauty and power. They are mysterious and unpredictable. While they offer whispers of identity and hints of former lives, they remain enigmatic.