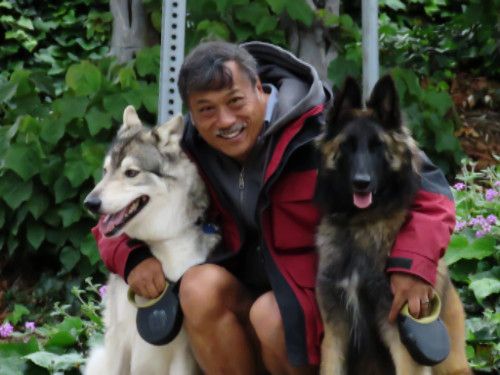 Biographical Information:
My paintings are created using acrylic spray enamel on the obverse side of clear co-polyester panels - PETG. They are "obverse" paintings, rather than "reverse" paintings, in that they are not the product of a backward, formulaic process, but rather the result of a creative "dialogue," action answered by a strategic, intuitive reaction, generated to be viewed through the clear surface. Working from behind is not the equivalent of working in reverse.
Using water, static, objects (found or created -to mask or print), and other masks and influences, I determine shapes and textures, building the paintings, color layer by color layer, overlaying textures and hues. I also use sgrafitto and solvents to clear and repaint areas or to manipulate the laying-on of colors in acrylic and other media, including collage, oil-pastel, and metallic dust. In fact, the optical qualities of the polymer, through which my work is viewed, become an additional "medium" in the finished work.
Each painting is unique - unrepeatable, by virtue of the technique. After completion, the paintings are annealed, giving the surface a "fingerprint," a final mark of distinction. Some paintings are coated with a thin film of polyurethane to protect the surface.
As with all pigmented fine art, these paintings should be sheltered from direct sunlight, impact, and excessive heat.
Artist Statement:
My paintings result from a progressive dialogue, between stages of strategy, analysis, and intuitive choices. The results are viewed through the clear surface of my "canvas." I do not paint backward ... but I do paint on the back side, building, layer by layer, to a conclusion. My unique, indirect, painting process incorporates the thin, polymer panel to create the luminous visual qualities of copper enamel, art glass, or glazed tile, but with the added spontaneity and scale that painting allows.
I discovered my painting technique in an exploration of the visual properties of art glass with the objective of engaging the flexibility and spontaneity of painting. The bonus was that my new process, working on the back side of a thin, clear panel, forced me to relinquish a generous amount of control. This twist allows me to rely on my intuitive resources, injecting surprise into the process of creation.
Solo Exhibitions:
Feb. 2006 White Space I, solo show, W Hotel, San Diego, CA
April 2005 Concentric, solo show, Fallbrook, CA
Nov. 2003 Fred Chuang, solo show, Coffee Table Gallery: Los Angeles, CA
Oct. 2003 Fred Chuang, solo show, Martini Gallery, West Hollywood, CA
Group Exhibitions:
Nov. 2008 Gathering, group show, SLAC/Citibank, Los Angeles, CA
July 2008 Accolades Selection, group show, Crowne Plaza Hotel, Ventura, CA
Oct. 2007 Accolades Selection, group show, Crowne Plaza Hotel, Ventura, CA
Oct. 2007 Inspire, group show, QRC, Pomona College, Claremont, CA
July 2007 Duality, group show, One Leaf Gallery, Pomona, CA
June 2007 Diversity in the Arts: Reflections by 50+ Artists, group show, Bonaventure Hotel, Los Angeles, CA
Feb. 2007 GET:ART, group show/fundraiser, Bonhams & Butterfields, Los Angeles, CA
Nov. 2006 Figure It Out, group show, J Ferrari Gallery, Los Angeles, CA
Sept. 2006 ArtCrawl 9, group show, The Echo, Los Angeles, CA
Jan. 2006
May 2005 Open House, group show, Metro Gallery, Los Angeles, CA
More Patterns, group show, Bamboo Revisited Gallery, Los Angeles, CA
April 2005 Create:Fixate, group show, Los Angeles, CA
July 2004 Emergence, group show, Canoga Park, CA
July 2004 LA Mart Art, group show, Los Angeles, CA
July 2004 S.L.A.C. Summer Salon, group show, Los Angeles, CA
July 2004 Carnival, group show, revisited Gallery, Los Angeles, CA
May 2004 Montrose-Verdugo Juried Art Exhibition, Glendale, CA., Honorable Mention
April 2004 S.L.A.C. Group Show, Los Angeles, CA
Jan. 2004 Greater Midwest International XIX, Warrensburg, MO
Oct. 2003 Rosenthal International 2003-A Juried Competition, Fayetteville, NC
Aug. 2003 Northern National Art Competition, Rhinelander, WI
Publications
2007-present IEEE-Software, Bi-monthly cover illustration, National
2006 Taj Majal Review, Issue #10, Govindpur Colony, Allahabad, India
2004 Artwanted.com CREATIVE MINDS, Art Slam Press, Bountiful, UT
2003 Tulane Review, Tulane University, New Orleans, LA
Affiliations:
Pasadena Society of Artists
SilverLake Art Collective
Collections:
Private Collections, Nationwide
Suddleson Medical
University of Washington
Education:
1978 MFA CARNEGIE-MELLON UNIVERSITY, Pittsburgh, PA
Theatre Design: Scenery and Costume
1975 BA DARTMOUTH COLLEGE, Hanover, NH
Drama; Senior Fellowship - Playwriting (Magna Cum Laude)