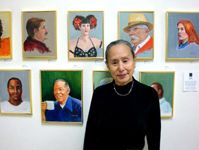 Biographical Information:
Lolita was born and raised in Portland, Oregon, where she attended high school and college. She also worked part time and saved carefully to attend art school in Los Angeles. In 1956, she made the move, and enrolled in classes at Los Angeles Art Center School of Design on Third Street. After a year, funds ran out and she returned to employment as a secretary. That is when Gene Chin proposed marriage! They resided in Los Angeles for about five years and when Gene was offered an overseas assignment in Japan, he applied and was accepted. Thus began their exciting and challenging life abroad, Gene as an auditor/accountant for U.S. Agency for International Development, Lolita as executive assistant. The Chins both retired from government service in 1991.
Lolita now devotes all her energy to painting, and has participated in art shows, art fairs, exhibits, competitions, etc. She is a member of Verdugo Hills Art Association, California Art Club, Glendale Art Association, Pasadena Society of Artists, and Silverlake Art Collective. Lolita's designs were used by a local greeting card company.
Affiliations:
Verdugo Hills Art Association
California Art Club
Glendale Art Association
Pasadena Society of Artists
Silverlake Art Collective.