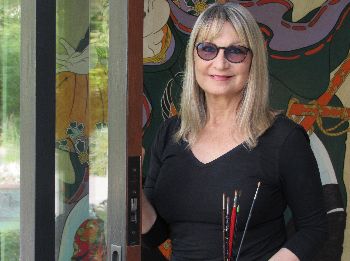 BIOGRAPHICAL INFORMATION:
Born and educated in France, Chantal has lived in five countries and four continents. She has studied art in Bordeaux, London, Hong Kong and Los Angeles. Being exposed to different cultures was an amazing sensory and visual experience and a life long influence. Studies of women, and the symbols of their emotions and dreams are the prominent features of her work. Her love for Asian design, combined with a passion for mythology inspire her paintings.
ARTIST STATEMENT:
"My passion for art emerged in childhood. One can choose to become an artist anytime in life or one is born an artist and just follow a calling."
Solo Exhibitions:
2017 Pasadena Library.
Group Exhibitions;
July 2018  Arroyo Creative Gallery, LA.
July 2018 AC Gallery, Hollywood. "Endless Summer".
Dec. 2017, Open Studio Tour, Altadena
June 2017 Open Studio Tour, Altadena
Feb 2016  The Brewery, Downtown LA.
Dec 2016  Open Studio Tour, Altadena
June 2016 Open Studios Tour, Altadena
Education:
School of Applied Arts, Bordeaux, France.
Camden Institute, London.
University of Hong Kong.
Pasadena City College.