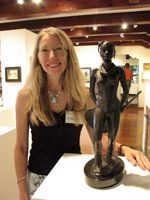 Biographical Information:
Jill Blaisdell was raised in Wilmette Illinois, a suburb just north of Chicago.
Growing up two blocks from Lake Michigan greatly influenced the artist's perception of the physical world. Lake Michigan and its many moods were full of fast changing images and strong elements of wind, ice, sun and waves.
The Art Institute of Chicago also provided a strong guiding force in her early years. Frequent trips to the Art Institute introduced this artist to ancient Greek sculptures, French Impressionists, etc. and encouraged her passion for the arts. The pair of Lions guarding the Art Museum set a high standard for what sculpture could be. The strength, and durability of the bronze statues made a lasting impression. While in High School Jill's art teacher encouraged her to submit several prints to a student art exhibit. One of Jill's prints won first prize and the jurors awarded her a scholarship to attend Life drawing and printmaking classes at the Art Institute.
Jill moved to the West Coast in 1978 to attend Art Center College of Design, as a film major with a minor in illustration. After a career of working as a sound effects editor in the the Motion Picture Industry, Jill now lives in the Southern California foothills with her family, sculpting full time.
Artist Statement:
Nature is my most critical ally. It inspires me endlessly, it helps me get lost in the moment, it focuses my mind, it's light emphasizes the forms I see. My natural instinct is to work in a figurative style because the human form is most familiar, and it is a direct way to express my emotions. I choose to sculpt in bronze and stone because these materials are beautiful and timeless, and they allow me to experience the world in a tactile/visual way.
There have been many artists whose work has inspired me artistically: Michelangelo, Bernini, Canova, Jean-Antoine Houdon, Aristide Maillol, and Henry Moore to name a few. From studying these artists' work they have shown me the aesthetics of harmony and balance in nature. They have taught me to search for truth and interconnections in the forms and to retain the essential details. Sculpting women allows me to explore who I am, and to explore what the modern version of "Venus" would look like.
I believe Art has the power to heal the subconscious and to energize the spirit. I like art that tells a story and has movement, so I constantly question if the piece is conversing with me. I work hard to coax an expression out of the grease clay and feel the difference between a well-executed study and a successful piece of art is the impact it has on the viewer. Is it inspiring, does it make you feel something? I would like to think my art is uplifting to my viewers.
Group Exhibitions:
2009 MsGroarty Arts Center presents Angeles Crest Art Guild Annual Juried Show.
Tujunga, CA.
2009 Vida Verde. Angeles Crest Art Guild Group Show. La Canada Flintridge, CA.
2006 Studio Art Show. La Canada Art Group, La Canada, CA.
2005 The Long Beach Arts Gallery. "The Human Figure Show". Juried by Domenic Cretara
Long Beach, CA.
2005 Topanga Canyon Gallery Open Show. Juried by Patricia Howard. Topanga Canyon, CA.
2004 Topanga Canyon Gallery Open Show. Juried by Michael Zakian. Topanga Canyon, CA.
2003 38th Annual Open National Exhibition at the Fine Arts Institute Of The San Bernardino
County Museum. Juried by David Lawrence. San Bernardino, CA.
2003 Angeles Gate Gallery and Cultural Center Annex. San Pedro, CA.
2003 On Site At The Gate 2003. Juried by Jay Belolli. Angeles Gate Cultural Center, San
Pedro, CA.
2003 Orlando Gallery Open Show. Tarzana, CA.
2002 The Burbank Federation Of Fine Arts Show at the Creative Arts Center, Burbank, CA.
2001 The Burbank Federation Of Fine Arts Show at the Creative Arts Center, Burbank. CA.
Awards & Honors:
2005 Honorable Mention at The Long Beach Arts Gallery.
2003 Redlands Art Association Award.
2002 Jurors Award at The Burbank Fine Arts Federation.
Affiliations:
The Pasadena Society Of Artists
Angeles Crest Art Guild
Education:
Studied under David Simon at the Los Angeles Academy Of Figurative Art.
Art Center College Of Design. Pasadena, CA. Film Major/ illustration minor.
University Of Michigan. Ann Arbor, Michigan. Photography/illustration major.
Denison University. Granville, Ohio.